16 Incredible Facts Will Change the Way You Think About Africa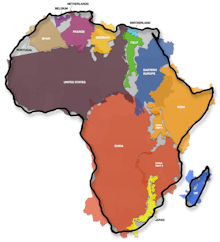 This is a guest post written by Aubrey Hruby and and Eliot Pence. Hruby is a Visiting Fellow at the Africa Center at the Atlantic Council and is a consultant helping companies do business in African markets. Eliot Pence is the director of the Africa practice at McLarty Associates and founder of Upstream Analytics.
Africa has officially arrived. Earlier this month at the first ever U.S.-Africa Leaders Forum, Washington D.C. saw more Africa than ever before. Forty-two African heads of state joined President Obama in ushering in a new era. Anyone who cares about Africa couldn't help but feel excited at the additional attention the summit brought the continent — a continent too few know enough about. 
"Africa rising" is the bumper-sticker description for Africa's dramatic change. But the phrase doesn't quite capture the enormity of the change. At Africa's current growth rate, living standards will increase more in 50 years than they did over in 1,000 years in the West. 
While Africa's economic success is staggering, the implications reach far beyond that. There's a perfect storm of innovation. Economic growth has led to a technological boom and cultural renaissance. The transformation is dramatically changing the way Africa is seeing the world, and how the world is seeing Africa. In the future, Lupita and Chimamanda may be as common as Barack and Madiba, two African names Americans already know well.
Here are 16 facts that prove why Africa is the continent everyone should be watching. 
1) In the 1970s, Africa's entire population was one-half of Europe's. Today, Africa's population is more than double the EU's. 
2) More transactions are done by mobile money in Kenya than in the U.S. Kenyans have done $12.5 billion worth of business in the first six months of 2014.
3) Over 100 incubators have been founded in the past 48 months in Africa. And you thought Silicon Valley was the future of technology. 
4) Rwanda ranks highest in the world for number of women parliamentarians at 64%.
Image Credit: National Geographic
5) Africa has four wireless cities including Dar es Salaam in Tanzania and Kigali in Rwanda.
6) In less than three generations, over 40% of the world's youth will be African.
Image Credit: The Washington Post
7) Cell phones have changed everything (70% of Africans own one). An African kid with a cell phone has access to more immediate information than the president of United States did 15 years ago. 
8) Nollywood, Nigeria's movie industry, is the second-largest movie industry in the world behind Bollywood, and puts out twice as many movies as Hollywood.
Image Credit: Indiegogo
9) Africa is now nearly as urbanized as China, and has as many cities of 1 million people or more — the same as Europe.
10) Major Silicon Valley titans like Facebook and Google now battle it out in Africa, with both companies investing in projects to bring Internet access to isolated parts of the continent.
11) More Guinness is drunk in Nigeria than Ireland.
Image Credit: John Atherton via Flickr
12) Africans and people of recent African descent are highly educated. Of the 300,000 educated Africans in diaspora, 30,000 of them have Ph.D.s.
13) Fifteen years ago, Tanzania's population was the size of California. In 2100, it will be 276 million, nearly the size of America's today.
14) In the next three years, the number of smartphone shipments to Africa will double. Some even predict that the majority of Africans will own a smartphone by 2017.
15) Champagne consumption is growing faster in Nigeria than anywhere else in the world.
16) Also, Africans like us. Three of the top 10 countries with positive views of the United States are African!
Image Credit: Pew Research Center