5 Reasons This Is the Golden Generation of Men's Tennis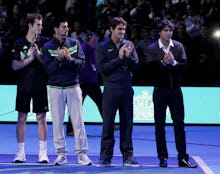 As the U.S. Open kicks off Monday at Flushing Meadows-Corona Park in Queens, N.Y., with just one American men's player in the top 40 of the ATP rankings, it's hard to believe U.S. dominance was once the status quo.
American men combined to win 27 of the 56 major tournaments between the 1989 French Open and the 2003 Australian Open, but it's been more than a decade since a U.S.-born men's player won a Grand Slam — when Andy Roddick captured the 2003 U.S. Open title at 21. When Roddick retired abruptly in 2012, it left the U.S. without an active men's Grand Slam champion for the first time in 129 years.
For many American fans, that's been an excuse to check out of men's tennis.
Talk about an unforced error. 
Since then, the Big Four of Roger Federer, Rafael Nadal, Novak Djokovic and Andy Murray have lifted the sport to previously unheard of levels of play and sportsmanship, enriching both each other and the players beneath them. Simply, there's never been anything like it. Here's a look at what's made this unique quartet such compelling theater.
1. The Big Four have won 36 of the last 38 Grand Slams.
This golden generation has dominated every major event in ways that defy belief when you look back at the stats.
Since the 2005 French Open, all but two majors have been won by Federer (13 of his 17 overall), Nadal (14), Djokovic (seven) and Murray (two).
Apart from Argentine Juan Martin del Potro (the only player to beat Nadal and Federer in the same tournament) and Stan Wawrinka (who finally emerged from the more heralded Swiss's shadow to win his first major this year in Melbourne), every other Grand Slam trophy has been raised by one of the Big Four over the last nine years.
If you extend the timeframe back to Federer's first Slam victory at Wimbledon in 2003, they've accounted for 39 out of last 44 major titles. No other period in the Open era has known such a consistent domination at the majors by the same players, the epitome of which could be seen in 2012, when all four won a Slam apiece.
Just before the French Open last year, Steffi Graf, a 22-time major winner and one of the best women's players of all time, said: "Men's tennis, definitely, is at the highest it has ever been."
2. Their dominance has coaxed the very best out of everyone in the sport — especially themselves.
Before the Federer-Nadal and now Nadal-Djokovic rivalry started to define the men's game, there was Pete Sampras-Andre Agassi — two antithetical characters battling across the net and atop the rankings. And before that, Bjorn Borg and John McEnroe made each other better players every time they came across the net. But while Borg quit at 26 and Agassi went on walkabout during the mid-'90s, Federer and Nadal have defied age and injuries to leave little room for others to punch above their weight.  
Their consistency is the reason this generation has hardly seen any new champions — but their joint presence at the top has forced the rest of tennis' top tier to elevate their games nonetheless. (Need proof? Look no further than Djokovic's ultimate emergence after four frustrating years at No. 3.)
Consider that during the 13 major tournaments between the 2000 U.S. Open and the 2004 French Open, there were no less than nine different first-time Grand Slam champions: Marat Safin, Goran Ivanisevic, Lleyton Hewitt, Thomas Johansson, Albert Costa, Juan Carlos Ferrero, Federer, Roddick and Gaston Gaudio.
In the entire decade since then, there have only been five — including Nadal, Djokovic and Murray.
3. They have rewritten the Open Era record book to forge a once-in-a-lifetime legacy.
In the early days when Nadal was fast evolving into a contender for the King of Clay title, Borg's feat of six straight French Open titles stood before him. But Nadal shattered that record and went on to win nine trophies at Roland Garros, an achievement that may never be surpassed. Similarly, Pete Sampras' 14 Grand Slam titles were considered a benchmark until Federer eclipsed him and collected 17.
Those are two records that ensure this pair will be remembered for decades to come, and it wouldn't be surprising if they remained unbroken. Federer also has the most match victories at majors (274) and holds the records for most consecutive Grand Slam finals, semis and quarters reached.
Djokovic, for his part, won every Grand Slam except the French in 2011 and showed his invincible side as he put together a streak of 41 straight wins from December 2010 to May 2011, before being stopped by — you guessed it — Federer. Murray too will be part of history for lifting the monkey off his back at the 2012 U.S. Open, when he became the first British men's player to win a Grand Slam singles title since 1936.
4. The next generation still isn't ready for the baton.
There hasn't been a major breakthrough at a Grand Slam in men's tennis resembling what Boris Becker did at Wimbledon, Mats Wilander and Michael Chang did at the French or what Sampras pulled off at the U.S. Open. Becker (17), Chang (17) and Sampras (19) still hold the records as the youngest respective men's singles winners at those tournaments.
Aussie teenager Nick Kyrgios created quite a ruffle this year by beating then-No. 1 Nadal at Wimbledon, but he's yet to win a title on tour and is already 19. Nadal was the last major-winning teen prodigy that men's tennis has seen. Players that have followed him have shown enough promise, but not quite the level that saw Nadal crowned a Grand Slam champion at 19. The ever-controversial Bernard Tomic (now 21) and up-and-comers Grigor Dimitrov and Milos Raonic have shown flashes of talent and success, but have failed to consistently challenge the golden generation at majors.
It took a 28-year-old Wawrinka to finally snap the streak of 16 consecutive Grand Slam titles by the Big Four. 
5. They're nearing the end, so enjoy it while it lasts.
Nadal, the defending U.S. Open champion, is sitting out this year's tournament — his third major absence in three years — with a wrist injury. Federer hasn't won a Slam in two years, though he is among the favorites in Queens. Djokovic has declared that tennis is no longer his No. 1 priority as he starts a family. Murray, down to No. 9 in the rankings, hasn't even been to a final since winning Wimbledon in July 2013.
The most poignant confession of being close to the end came from Nadal this year as he received the French Open trophy: "I am 28, it's not forever. I will have a few more opportunities but you don't know if I will ever win it again."
Indeed, Federer will be 34 at the next U.S. Open. Nadal and Djokovic will be 29 and 28, respectively. At a time where the singles game has become so physically taxing, age is a big factor — if not the deciding one — in grueling five-set marathons. 
"Our generation is on the way out," Nadal has said. "We have all been here for a long while. It's normal. A generation is walking away and others will replace us. It will not come overnight, but it will come."
One thing's for sure: They won't be easy to replace.