Sarah Silverman Hilariously Exposes The Absurdity Of Red Carpet Interviews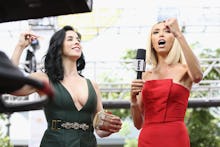 Award shows bring red carpets, and red carpets bring red carpet interviews. Well, "interviews" might be the wrong term — they are less hard-hitting journalism as much as a litany of "lady questions" tossed at female celebs, who are trapped on the podium until they submit to a satisfactory amount of inquiries into their beauty routines, workout tricks, pregnancy cravings, fashion choices and hair styles. 
It's a routine that's as old as it is pointless. So we'd like to nominate Sarah Silverman for a special Emmy tonight's, for hilariously blowing the cover off the whole thing as only she can at the 2014 Emmy Awards. Her red carpet chat with E!'s Giuliana Rancic was a masterpiece of interview sabotage, thwarting Giuliana's attempts at gal-pal smalltalk at every turn. Oh, and spoiler alert: She had POT IN HER BAG.
Giuliana complements Sarah's outfit, then sticks the mic in her face. Sarah: "Why did you put the microphone in front of me? You didn't say a question, you're just like, 'Hey, you're dressed like a nominee.'" 
Giuliana to Sarah: "Your boobs are very perfect." Sarah: "They're the lowest they've ever been and the highest they're ever going to be... Maya Angelou." 
Giuliana asks Sarah who she's wearing. Sarah says it's Marni... as in, the character from "Girls." 
Giuliana prompts her to do the famed Mani Cam, then chastises her for her lack of manicure. Sarah: "I've been on the road... these are WORKING HANDS."
Giuliana makes her do the Clutch Cam, then shames her for not being prepared with the designer name. "I don't knowwww, I'm sorry!!" 
Giuliana tries to salvage the interview by going through Sarah's clutch. Sarah: "This is... my pot. It's liquid... pot." 
Sarah finally makes her bold exit, inviting Joan Rivers and the Monday morning Fashion Police: "Be brutal! I can take it."
Oh, we have no doubt, Sarah.