Louis C.K.'s 'Fat Lady' Episode Won an Emmy For This Brilliant 7-Minute Monologue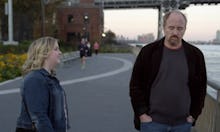 In the excellent last season of Louie, one episode in particular stood out. "So Did the Fat Lady," which guest starred actress Sarah Baker, was an honest, thought-provoking, conversation starting episode with a killer 7-minute monologue about life dating as a plus-size woman. On Monday, the Emmys honored that episode with a writing win for Louis C.K. It's not hard to guess that the monologue had a whole lot to do with that accolade. 
The episode, and the monologue in particular, are worthy of a close rewatching. Jezebel called it "absolutely magnificent" and the Daily Beast lauded it for doing "something extraordinary —namely, ma[king] some really powerful points about gender, media, and American standards of beauty, all while avoiding the common traps of stereotyping or mansplaining." 
In the episode, Baker (who plays Vanessa) asks out Louis, who declines even though she is charming, fun and shares his interests. She asks him out again after bumping into him, but he declines yet again. His refusal isn't for a lack of chemistry: it's very clearly because she is fatter than the women he has dated before. Finally, Louis asks Vanessa out and a perfect meandering, get-to-know you date unfolds.
It's on this date that the brilliant monologue takes place. After Louis laments how hard it is to date in New York she replies: "Try dating in New York in your late 30s as a fat girl." After Louis tells her she's not fat, Vanessa takes him to school: "If I was a very, really beautiful, then you would have said yes when I asked you out. I mean, come on, Louie, be honest here. You know what's funny? I flirt with guys all the time. And I mean the great looking ones, the really high-caliber studs? They flirt right back, no problem. Because they know their status will never be questioned. But guys like you never flirt with me, because you get scared that maybe you should be with a girl like me."
It's the kind of scene that really shows the very best of television comedy, and the Emmys agreed. Watch the amazing monologue below.