Bryan Cranston and Julia Louis-Dreyfus Steal The Emmys With An Epic On-Screen Makeout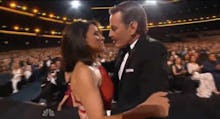 Sorry, Emmys, those golden statuettes are looking a little lame right now. The real prize at Sunday night's Emmy Awards, it turns out, was a steamy hot (and perhaps unexpected) kiss from Bryan Cranston. And Julia Louis-Dreyfus was the night's big winner.
The anticipation started building when JLD and Cranston presented the award for Outstanding Lead Actor In A Comedy Series. Julia reminisced about that time Cranston made a cameo on Seinfeld as dashing dentist Tim Whatley ... seemingly forgetting that Cranston was the one who played the role. "We shared a kiss," Cranston muttered, irritated. 
He sure reminded her. When Louis-Dreyfus walked up to the stage to accept her own Outstanding Lead Actress In A Comedy Series award a few minutes later, Cranston and his creepy little mustache ambushed her.
Here it is again, but faster:
Cranston was so determined, so passionate, so absorbed with the lovely JLD, that a (pretend?) angry Jimmy Fallon had to push him away.
We're assuming Jimmy, like the rest of us, then took a moment to fan himself. Forget "Bachelor in Paradise" — the Emmys just became the most PDA-filled show on Monday night. 
It was almost as hot as that time on "Seinfeld"...
Here's the video: