The Emmys Were Going So Well Until This Uncomfortably Sexist Sofía Vergara Moment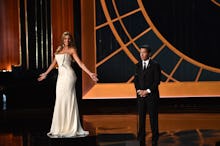 To anyone who thought that Beyoncé and the MTV Video Music Awards signaled a new era for popular media, I present to you this historic moment:
Image Credit: Buzzfeed
Yes, that is Bruce Rosenblum at the microphone, chairman and CEO of the Academy of Television Arts & Sciences, giving a speech about diversity while Emmy-nominated actress Sofía Vergara twirled casually on a pedestal next to him. No, we did not accidentally travel back to the 1950s. This overt example of objectification actually happened during the 2014 Emmys, and everybody on the Internet rightfully lost it.
Although some were slower than others to realize how offensive this was:
Although we'd love to say this was an isolated incident; in fact, it's not the first time Vergara has been ridiculed, infantilized and generally disrespected by her peers. As one of the only high-profile women of color on television, she gets her healthy dose of racism and sexism pretty much regularly — not to mention used as a tool for the blatant perpetuation of "spicy Latina" stereotypes. This acceptance speech from the 2012 Golden Globes, in which Modern Family's executive producer Steven Levitan implies she sleeps with her producers, essentially speaks for itself. 
Better luck next year, boys.