8 American Tennis Stars at the U.S. Open You Should Probably Know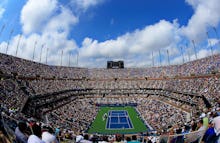 With the U.S. Open under way at the Billie Jean King National Tennis Center in New York City, here's a look at eight young Americans who could make an impact as the season-ending Grand Slam unfolds.
1. Sloane Stephens
Age: 21
From upsetting Serena Williams at the 2013 Australian Open, to handling the ensuing controversy, to being the youngest woman in the WTA top 20 last year, to the Elle magazine profile that opened with a scene at her gynecologist, to dating fellow American tennis player Jack Sock, to playing into the second week at six consecutive majors: Stephens has as much going on the court as off it.
But if her first-round U.S. Open showing is anything to go by — she let a hapless Annika Beck win only three games — Stephens has learned to balance the two worlds. She may have suffered a disappointing first-round exit at Wimbledon this year, a rare early exit at a major, but the 21st-seeded Stephens now has the chance to make amends. An accommodating draw augurs well for a deep run.
2. Noah Rubin
Age: 18
The reigning Wimbledon boys' singles champion, just the second American winner in 19 years, and USTA boys' national champion in singles and doubles, Rubin has a main-draw wild card in both singles and doubles.
After giving serious thought to turning pro over the last year, the 18-year-old has decided to attend Wake Forest University — but not before trying to get a good run at American tennis' big stage. Playing at Arthur Ashe Stadium, just a half-hour drive from his Long Island home, has been a lifelong dream. But for now, he's going to have to make peace with Court 13 for his opening match against unseeded Federico Delbonis of Argentina.
3. Catherine "CiCi" Bellis
Age: 15
Not only is Bellis the youngest player in the men's or women's draws, but she's the youngest entrant in the main draw at any Grand Slam since Alize Cornet at the 2005 French Open. The No. 2-ranked junior earned a wild card by winning USTA's 18s National Championship and has gone unbeaten for nearly half a year among the girls, though the odds are not in Bellis' favor of making it far this time around: The San Francisco native is up against 12th-seeded Dominika Cibulkova in her tour-level main-draw debut.
4. Jack Sock
Age: 21
Sock arrives at Flushing Meadows this year knowing what it's like to lift Grand Slam trophies, having already taken home U.S. Open titles in boys' singles and mixed doubles in his young career. At Wimbledon this year, Sock and Canadian partner Vasek Pospisil beat four seeded teams, including doubles heavyweight Bryan Brothers, to win the championship. He's up to a career-high ranking of No. 55 with 20 match wins this season, already double his total from last year, when he first started competing full time on the international circuit. After making the third round here in 2012 and '13, Sock looks to break through to the second week.
5. Madison Keys
Age: 19
Among Keys' many accolades, there is one tucked away in quiet obscurity. As a 14-year-old and the youngest player in WTA history, Keys had beaten then-reigning Wimbledon champion Serena Williams in a singles match for Philadelphia Dreamers in 2009.
Now 19, Keys is seeded for the first time at the U.S. Open at No. 27, set to open her tournament against Jarmila Gajdosova of Slovakia. She won her first WTA title this year and, if you ask her what else she'd like to own, she says: "I really want a BMW."
6. Ryan Harrison
Age: 22
If you're looking for a McEnroe-esque fire in your tennis heroes, look no further. Harrison is quite the volatile, flashy, racket-throwing, telling-his-dad-to-leave kind of tennis player. He had been fined $2,100 — a hefty cut by tennis standards — for tossing his racket at the French Open qualies in 2011 and warned again the following year at Roland Garros. Representing the country at the London Olympics, Harrison again completely smashed his racket after his first-round loss.
His ranking could be much higher than No. 184 if he'd been more consistent with his coaches or not had the bad luck of drawing the toughest opponents. At the 2011 French Open, he opened against two-time finalist Robin Soderling, and was forced to face Novak Djokovic at Wimbledon in 2012 and the Australian Open in 2013. Last year at Flushing Meadows he met Rafael Nadal in round one and Grigor Dimitrov beat him in the opening round at Wimbledon this year. He again faces the eighth-ranked Dimitrov at the U.S. Open but perhaps can thrive on the crowd support to bring out his top game.
7. Lauren Davis
Age: 20
The Ohio native is enjoying her best pro year as she reached the third rounds at both Australian Open and Wimbledon, upsetting 12th seed Flavia Pennetta at the All England Club. Davis also scalped an injury-hampered Victoria Azarenka at Indian Wells this year for her first scalp of a top-10 player.
Though the 20-year-old faces a tough opener against 2011 U.S. Open champion Samantha Stosur, she can take heart from the fact that the Australian veteran lost in the opening round at Flushing Meadows last year to Victoria Duval, another young American who was barely 17. With the home crowd backing her, Davis is in a favorable position to pull off another major upset.
8. Jared Donaldson
Age: 17
From hitting with Roger Federer for three weeks in Dubai to getting advice from former top pros Justine Henin and Mardy Fish, this 17-year-old from Rhode Island has experienced what the men's tour could be like before even turning pro.
Donaldson may have gotten a hard one this time, drawing 20th-seeded Gael Monfils on his wild card entry into the U.S. Open, but he is a name American tennis fans can look forward to in coming years.