Doctors Find Another Surprising Outcome In States That Have Legalized Marijuana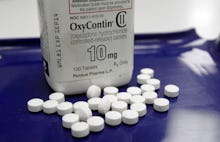 AP
The news: Here's another argument to chalk up on the pro-marijuana legalization column: It might actually decrease the number of drug overdoses.
A new study published on Monday in the journal JAMA International Medicine found that despite concerns over marijuana being a gateway drug, states that have introduced medical marijuana laws have reported significantly fewer painkiller-related deaths.
"We found there was about a 25% lower rate of prescription painkiller overdose deaths on average after implementation of a medical marijuana law," lead study author Dr. Marcus Bachhuber told CNN. "We found that medical marijuana laws might provide unexpected benefits to public health."
This conclusion came from examining medical marijuana laws against death data between 1999 and 2010 in all 50 states. Only 13 states had medical marijuana laws on the books during this time, but in 2010 alone, these states had 1,700 fewer overdose deaths than could have been expected based on the numbers before the medical marijuana laws were enacted. 
Prescription painkillers are dangerously addictive, but still legal. According to the Centers for Disease Control and Prevention, opioid analgesics (painkillers such as morphine, oxycodone and methadone) constitute 74% of all pharmaceutical overdoses in the United States and cost the country around $55.7 billion per year in workplace, health care and criminal justice costs.
Mic also reported that recent figures also indicate that prescription painkillers lead to around 46 deaths per day in America, representing a 400% increase since 1999.
Marijuana could be a safer alternative. In addition to its efficacy as an anti-inflammatory painkiller, marijuana has been linked to a host of medical benefits, such as reducing seizures, nausea and symptoms of depression. It's also important to keep in mind that marijuana has extremely low levels of addiction and that there have been zero instances of pot overdose.
Still, only 23 U.S. states (plus Washington, D.C.) have legalized medical marijuana:
It's time that the rest of the country acknowledges what these states have already learned: You might not like marijuana, but you can't deny that it's safer than opiate painkillers. And if the latter is perfectly legal, why can't we get legal weed to sick people who need it?