Why 'Modern Family's' Fifth Emmy Should Be Its Last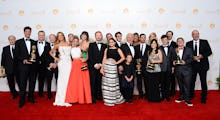 It was perhaps only fitting that Jay Leno presented Modern Family with its fifth consecutive Emmy for Outstanding Comedy Series Monday night at the 66th Primetime Emmy Awards on NBC. Like Leno himself, Modern Family keeps winning big over more deserving candidates by providing us with a steady stream of broad comedy that takes very few creative risks. This year, for example, Modern Family edged out refreshingly original shows like Orange is the New Black, Veep and Louie to win the top award in television comedy.
But Modern Family's continued Emmy success is disappointing for more reasons than the series' formulaic scripts and staid humor. The upper-middle class lifestyle of the Pritchett family is beginning to feel out of place in a television landscape where new comedies like Orange is the New Black produce humor out of struggles that relate to a wider spectrum of viewers across class and race divides. After five years and five consecutive Best Comedy wins, Modern Family, which positions itself as the television reality of today's modern families, is so out of touch with the financial realities of those real-life families that the awards it receives are now getting harder and harder to defend. 
In his acceptance speech for Outstanding Comedy Series Monday night, show co-creator Steven Levitan made a telling joke about how lucky his daughter thought they were to "have a roof over [their] heads" after she saw Levitan flounder his way through a brainstorming session. Coming from a wealthy veteran producer, Levitan's anecdote unwittingly brings Modern Family's mindset and flagging relevance into stark relief: U.S. income inequality is the highest it has been since 1928, and a comedy about three suburban, upper middle-class families — with beautiful homes, no less — is losing some of its luster. As Daniel D'Addario observed on Salon last year, the characters on Modern Family travel all over the world and own all the latest gadgets with nary a word of serious financial trouble. As D'Addario puts it, "Everyone on the show has a large and tastefully decorated home; each of the three families, despite their differences in age, sexual orientation and racial makeup, is able to spring for big group vacations without mentioning the price ... No wonder they all spend so much time together — in a still-difficult labor market and with the cost of living rising, they're anomalies." Not so very modern at all. 
There may have been a time, though, when Modern Family's fantasy of effortless, comfortable living resonated with viewers more than it does now. When the show debuted in 2009 in the midst of a global economic recession, show co-creator Christopher Lloyd told the New York Times, "Financial trouble is not the happiest topic, and stories about money on comedies tend to not work because they tend to shine a light on people's less likable qualities." Lloyd maintained that the show was "appealing to people because, among other reasons, it was providing a respite during a challenging time in the country."
At its start, and at its best, Modern Family was supposed to be middle-class escapism, offering viewers an alternate future without foreclosure, debt and unemployment. But five years later, as the long tail of the recession continues to drag on and affect many modern families, the boundless wealth and rosy world Modern Family presents is hard not to resent. Twitter was quick to express its discontent last night when the show won, yet again. 
It's common knowledge in the television industry, as Maclean's notes, that comedies featuring working-class characters are neither popular nor financially successful. 
But shows like Louie are starting to prove that financial struggle and comedy do not have to be antithetical, even in the wake of a global recession. Louie, for instance, glosses over the particulars of Louie's financial situation, but presents us with a parent who is constantly working and struggling to find work. This is in stark contrast to the perennial vacationers of Modern Family, where each of the three modern families is able to afford a stay-at-home parent and when Claire and Cam do work it's treated as a hobby. 
Orange is the New Black, too, finds comedy in an array of working and middle-class characters living in a women's prison. With Orange, Netflix has given us a prison comedy full of funny, likable characters stretching across a spectrum of class and race that makes the white suburban Pritchetts even more boring and insular. In crafting this amazing cast of characters, Netflix has also bucked the conventional wisdom that a comedy about lower-class characters cannot be financially successful.
After nearly half a decade of Modern Family's upper-class fantasies, we might be starting to resent the Pritchetts more than we can escape through them. The show's big Emmy wins will continue to induce groans so long as shows like Orange is the New Black continue to revolutionize television by telling us new kinds of stories about new kinds of characters. Like Jay Leno, then, Modern Family will likely manage to remain in the spotlight by giving us more of the same. But maybe it's time for Modern Family to take a cue from its competition and allow its characters to experience some hardship for the first time in five years. They could start by destroying Phil's iPad.