9 Upcoming Projects From This Year's Big Emmy Winners You Need To See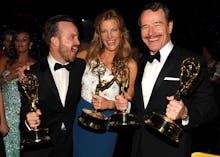 The Emmys are over, for this year anyway. With Walter White's Breaking Bad world and Modern Family both raking in their healthy share of awards Monday night we turn to what's next from some of the biggest winners from television's biggest night. Will we be seeing them at next year's awards? Will we be seeing them at the Oscars? The Tonys? On the big screen, small screen or stage? Here's where you can expect to see this year's winners next. 
1. Ty Burrell: 'The Skeleton Twins' and 'Finding Dory'
Burrell now has two Emmys for his role as Phil Dunphy, but he will soon be trading Modern Family for the big screen. Next month he hits theaters alongside Bill Hader and Kristen Wiig in The Skeleton Twins. His voiceover work will then head to the deep blue ocean in Finding Dory, the sequel to the Disney/Pixar hit, Finding Nemo. Burrell will voice Bailey, a beluga whale, a perfect comedic companion to Ellen DeGeneres' Dory. The sequel is due to hit theaters in 2016.
2. Martin Freeman: 'The Hobbit'
There was plenty of Sherlock love Monday night with Freeman taking home the Emmy for Outstanding Supporting Actor in a Miniseries/Movie. While Freeman is finally becoming an American TV star in his own right thanks to roles in Sherlock and Fargo, his next journey is back to Middle Earth. Freeman will reprise his role as Bilbo Baggins in the final part of The Hobbit trilogy, The Hobbit: The Battle of Five Armies, out in December.
3. Benedict Cumberbatch: 'The Hobbit,' 'The Jungle Book'
Cumberbatch also won for Sherlock on Monday night for Outstanding Lead Actor in a Miniseries/Movie. Mr. Holmes himself will also be returning to Middle Earth in The Hobbit: The Battle of Five Armies as the voice of the dragon Smaug. After that it will be off to the jungle. After playing Khan in last year's Star Trek Into Darkness, Cumberbatch will play another Khan, the voice of Shere Khan, in the upcoming film Jungle Book: Origins.
4. Aaron Paul: 'Exodus'
"Exodus, bitch!" Well, kind of. After scoring another best supporting actor in a drama win for his portrayal as Jesse Pinkman in the final season of Breaking Bad, Paul will star as Joshua in Ridley Scott's Exodus: Gods and Kings. The film tells the Biblical story of Moses leading the slaves out of Egypt, and it features Christian Bale as Moses and Sigourney Weaver as an Egyptian queen. The film has already faced a good deal of controversy, but we'll have to wait until December to see how the film comes together.
5. Jessica Lange: 'American Horror Story: Freak Show,' 'Wild Oats'
After winning an Emmy for Outstanding Lead Actress in a Miniseries/Movie for her portrayal as the Supreme in this past season's bewitching installment of American Horror Story, Lange will be joining Shirley Maclaine and Sarah Jessica Parker in the upcoming road trip movie Wild Oats, as well as returning for her reported final season of American Horror Story.
6. Kathy Bates: 'American Horror Story: Freak Show'
Bates may have made Emmys history Monday night by winning an award for playing a severed head (she already won an Emmy for playing Charlie Sheen — don't ask), so it's understandable she would stay with American Horror Story creator Ryan Murphy for her next project. Premiering in the fall, American Horror Story: Freak Show will show the scary side of the circus as Bates plays Ethel Darling and Michael Chiklis (The Shield) plays her ex-husband.
7. Anna Gunn: 'Gracepoint'
Gunn, whose heart-wrenching portrayal of Skylar White won her a supporting actress Emmy for the past two years, will stay on the small screen as Det. Ellie Miller in Fox's Gracepoint, the upcoming adaptation of the British hit, Broadchurch.
8. Moira Walley Beckett: 'Flesh and Bone,' 'Black Swan'
Beckett — who wrote the outstanding "Ozymandias" episode of Breaking Bad — may not be a household name, but she is becoming a creative force in the television industry. With Breaking Bad over, Beckett will executive produce the new Starz series Flesh and Bone, which sounds like Black Swan: The TV Series. Get ready to lace up your slippers!
9. Bryan Cranston: 'All the Way'
Cranston won his final Emmy as Walter White, but that's not the only award he's won this year. Earlier this summer Cranston took home a Tony for his starring role as President Lyndon Johnson in All the Way. He will reprise the role for the HBO version of the play, which has Steven Spielberg as the executive producer. Something tells us he better leave room on his Emmy shelf once that airs. EGOT, anyone?