Young Jeezy Arrested After Deadly Shooting at Wiz Khalifa Concert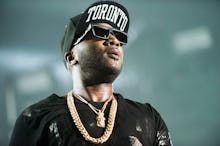 The news: After a deadly backstage shooting at a Wiz Khalifa concert at San Francisco's Shoreline Amphitheater on Friday night killed a 38-year-old man, police have arrested six people, including Def Jam rapper Young Jeezy (née Jay Jenkins), who was part of the tour. Jeezy is a platinum-selling artist popular enough to get name-dropped by the president, so if Jeezy is ultimately charged for involvement in the shooting, the trial will be a big deal.
According to SFist, Khalifa canceled a concert scheduled for Aug. 23 — the day after the shooting — in Chula Vista, but played an Irvine concert on Aug. 24 where Young Jeezy was arrested by Mountain View detectives. TMZ reported that he is being held on $1 million bail and that police recovered an assault rifle, which was later confirmed by a Mountain View police lieutenant.
Witnesses identified the victim as 38-year-old Eric Johnson of Oakland and the murder weapon as a black pistol with a large magazine.
Authorities have not formally explained the connection between the Mountain View shooting and Young Jeezy, but told the media, "This remains an active homicide investigation and detectives are aggressively following up on all leads."
Young Jeezy mugshot from this past January. Image Credit: AP
Legal perspective: Legal analyst Steven Clark told Mercury News, "On the face of it, it's an exorbitant bail on a relatively benign charge. If they didn't think he had significant knowledge about the homicide, I can't imagine why he'd have a million-dollar bail. They want to make sure he doesn't go anywhere for the short term."
Violence in the rap scene is far from the heights it reached in the early-mid '90s, but occasional shootings are not uncommon. Rapper Suge Knight survived being shot multiple times during a nightclub shooting in West Hollywood involving three victims on Sunday in an unrelated incident, the second such time Knight had been shot at a pre-VMA party.
This isn't Jenkin's first run-in with the authorities. Earlier this year, Jeezy was detained in Atlanta for battery, false imprisonment and making terroristic threats in relation to a 2012 incident where he allegedly threw his son into a glass shower door and threatened to kill him.