A Striking Art Series Shows Curvy Women for the Beauties That They Are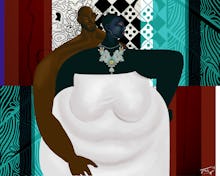 "[The] women that I portray in my art are all around, but society sees them as almost invisible."
This is how David James, the Trinidadian mind behind BBW Art, explains his work. The portfolio is a stunning showcase of the beauty and versatility of curvy women.
"I'm inspired firstly by those women around me. They're my family, my neighbors, my friends, strangers walking down the street," the artist and graphic designer told Mic in an email.
By portraying full-figured women in this way, James shines a light on a group that usually receives little in the way of positive feedback, particularly when it comes to their bodies. Indeed, James's project is one of the few out there to truly focus on and celebrate bigger women. The Curvy Fashionista, a plus-sized fashion blog, has highlighted a few other projects in its plus-sized art series, like "La Belle Rafaela" by Tamara de Lempicka and the series Busty Girl Comics. But by and large, curvy women are underrepresented in modern art — Botticelli's "Venus," was, after all, centuries ago. 
Most, though not all, of James' work features women of color. Some of the subjects are alone and some are with partners. Many are clothed, but a few are nude. They're both outside in the world and in more private domains.
The use of rich colors and textures give the works an abstract, almost luxurious feel. "I'm inspired by the juxtaposition of body part against body part, and of the different textures throughout a person's body, from dimples to stretch marks to cellulite to smooth skin to freckles," James said. "I think it all can be beautiful."
Born in 1975, James studied engineering and math in college before eventually graduating with a degree in art from Rutgers University in 2002. He also produced The Little Book of Big Beautiful Women, a collection of his artwork with stories, poetry and essays by curvy women on "love, loss and their daily lives."
He created the portfolio in part with his subjects in mind. "[It's] especially in the hope that people who don't often get to see themselves portrayed artistically see that they can be the focus of art," he said.
Mass media and pop culture, of course, do an especially egregious job depicting women who deviate from the thin, pale-skinned mold. As Mic's Danielle Paradis writes, "Most women will never see their body represented on billboards or in television commercials." There have been a few notable body positivity campaigns, like Dove's "Real Beauty" and Victoria's Secret's "I Love My Body," but both of these have weaknesses. Dove, for example, came under fire when a noted photo retoucher claimed he had a hand in the hygiene giant's ad campaign. 
James, who also produces his work under the name Mokojumbie Design, has tried hard to avoid falling into the same traps. For one, the women in his portfolio are not viewed as secondary players the way that they are in Dove's or Victoria's Secret's work; they're not being used to sell a product. These women appear to own their bodies and their space. It's an empowering concept, and one that certainly adds to the images' bold aesthetic. Second, his work isn't claiming to represent "real women" — it's merely depicting women James himself sees as worth paying attention to. 
So far, the artist says viewers have been generally very receptive to his project. "I can't count the number of times that someone has come up to me and said how appreciative they are that they can finally see themselves in art," James told Mic. "l always get asked if I peeked through their window because my work reminds them so much of themselves." 
To that end, he says his portfolio is still a work in progress, so a new cache of creations may not be that far off.
Image Credit (all): David James