Meet the 15-Year-Old Girl Who Just Made History at the U.S. Open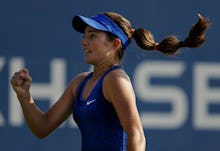 A 15-year-old from Atherton, Calif., just became the youngest girl in nearly two decades to win a match at the U.S. Open. Here's everything you need to know about Catherine "CiCi" Bellis after Tuesday's stunning 6-1, 4-6, 6-4 victory over Dominika Cibulkova.
She is the youngest player in the tournament -- by a lot.
CiCi -- short for Catherine Cartan -- was born on Apr. 8, 1999. That makes her younger than ... Baby One More Time. The next youngest player in the women's draw, Belinda Bencic, is more than two years older than her. Feeling old yet? Consider that Bellis has never lived in a world where The Sopranos didn't exist.
This was her first ever WTA match.
Bellis is the No. 2-ranked junior in the world, but had played only 12 pro-level matches on the lesser ITF circuit before this week, making Tuesday's match her official WTA debut. She'd punched her ticket the U.S. Open main draw by winning the USTA Girls' 18s National Championship less than three weeks ago, becoming the youngest winner of the event since Lindsay Davenport in 1991.
She just beat the 13th-ranked player in the world.
As maiden assignments go, this was a tall ask. Cibulkova, the runner-up at this year's Australian Open, was the No. 12 seed. But the 25-year-old Slovak was caught off-guard by her teenage opponent's aggression and shotmaking. By the time Cibulkova had found her footing in the match, Bellis had an overflow crowd in her thrall and confidence to burn. The San Francisco native struck powerful flat groundstrokes consistently deep -- punctuating each winner with contagious fist-pumping -- and seemed to deliver Cibulkova a mental beating that preceded the one on the scoreboard.
With the victory, Bellis became the youngest player to win a match at the U.S. Open since Anna Kournikova in 1996 -- and the youngest American since Mary Joe Fernandez in 1986.
Bellis' victory was worth $60,420, but she's not keeping any of it.
The prize money for progressing to the second round of the U.S. Open is $60,420 -- roughly 50 times Bellis' career earnings to date ($1,216) -- but the teenager is ineligible to collect her winnings due to her amateur status. "I'm definitely going to stay an amateur right now to keep my options open for college, in case an injury or something happens," said Bellis, who is homeschooled under the K12 International Academy curriculum. "But I'd love to be a pro one day."
She lives for the applause.
The USTA says Court 6, the non-televised side court where Tuesday's match took place, accommodates 624 spectators. At least twice that number packed the stands and amassed five-deep along the sideline when news spread around the grounds of Bellis' early lead. Rather than make her nervous, Bellis insisted she loves a crowd. "I love it when people watch me," she said. "It gives me more energy and makes me play better."
She's pretty much a regular teenager.
Bellis' post-match press conference in the bowels of Arthur Ashe Stadium -- filmed dutifully from the back of the room by her camcorder-toting father -- was light-hearted and brimming by giggles. An Italian reporter, perhaps confused by the subject's youth, asked whether she likes to read books or watch cartoons. Bellis informed the inquiring throng she hangs out at the Stanford Mall, shops at Urban Outfitters and loves The Ellen DeGeneres Show. She fessed to liking Justin Bieber when she was younger -- but assured everyone it was a phase she's outgrown.
Her next match is Thursday.
Bellis' opponent in Thursday's second-round match is Kazakhstan's Zarina Diyas, another rising talent who is up to No. 48 after fourth-round appearance at Wimbledon. The exact time will be announced when Thursday's complete order of play is announced on Wednesday afternoon.