Jon Stewart Rips Apart How Fox News Has Covered the Tragedy in Ferguson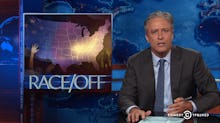 Comedy Central
The news: After a summer-long hiatus, Jon Stewart returned to the Daily Show last night to address the way some people have taken issue with the coverage of the protests and demonstrations in Ferguson, Mo.
Of course, there are legitimate grips to have over how the events in Ferguson have been reported, from a lack of available information on police brutality to the way mainstream outlets such as the New York Times wrote about Michael Brown's past.
But one non-legitimate reason: We're talking about race too much. But that's what Fox News has been complaining about. Unfortunately for them, in his return, Stewart ripped through Fox News's coverage on Ferguson and blasted Fox hosts such as Bill O'Reilly and Sean Hannity for not understanding "that life in this country is inherently different for white people and black people.
"Here's the problem with everything that's going on in this conversation. This isn't all about just one man killed in one town. It's about how people of color, no matter their socioeconomic standing, face obstacles in this country with surprising grace," Stewart says in the clip. "I guarantee you that every person of color in this country has faced an indignity — from the ridiculous to the grotesque to the sometimes fatal — at some point in their, I'm going to say, last couple of hours. Because of their skin color."
"And that shit happens all the time. All of it. Race is there. And it is a constant. You're tired of hearing about it? Imagine how fucking exhausting it is living it."
Being Black in America. And the Daily Show's extended look at race and police brutality did not stop there: In an absurdist segment, correspondent Michael Che went on a Forrest Gump-like journey across America to find a safe place to be black, ultimately ending up in the only possible haven: space. "Relax, Jon. I'm not even on Earth anymore. Nowhere safer for a black man than the infinite blackness of outer space," Che reports.
Welcome back, Daily Show.