Toronto Has a Brilliant Response to People Who Think It's OK to Litter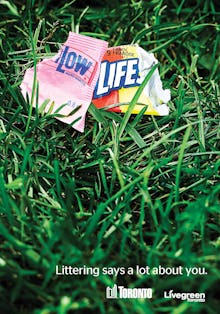 Imgur
Updated: Aug. 27, 2014, 4:00 p.m.
To all the casual litterers out there — this is exactly what people are calling you behind your back.
In partnership with the environmental program Live Green, the city of Toronto recently unleashed a fun, eye-catching ad campaign to highlight a common scourge: littering. The ads feature insults aimed at those ne'er-do-wells who can't hold on to their trash until they find a garbage can — composed of the very things that they are likely to litter on the ground.
It may seem like a somewhat trivial issue, but littering can be a serious problem. According to the U.S. non-profit Keeping America Beautiful, we spend $11.5 billion every year trying to clean up litter, and even though littering in America has gone down 61% since 1969, plastic litter has increased by 165% in that time period, and we're still tossing aside 51.2 billion pieces of litter on our roads each year. 
But Toronto's ad campaign took all that and boils it down into a simple, clear message: When the literal garbage starts judging you, it might be time to rethink your behavior.
Unfortunately, despite various companies' initial support for the city's anti-littering initiatives, concerns were later raised about the use of trademarks and potentially negative effects the campaign could have on the brands. The campaign has therefore been discontinued, but these images' message has made its way around the Internet and is as strong as ever. 
Check out some of the ads below:
1. 
2. 
3. 
4. 
5. 
6.