Use This Simple New App and You'll Never Look at Groceries the Same Way Again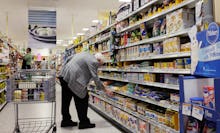 Getty Images
The news: They say that the best way to vote is with your wallet, but sometimes, you might be doing so without even realizing it.
As the controversies over companies such as Chick-fil-A and Hobby Lobby have shown, you might be surprised to learn about the politics of your favorite retailers and franchises. But if you're uncomfortable with indirectly supporting causes and politicians, you can always start a personal boycott — and a new smartphone app is making it easier for you to do just that. 
The app: BuyPartisan, developed by former Capitol Hill staffer Matthew Colbert, is a free app that helps you learn more about the politics behind your favorite brands. Every time you scan a product barcode, the app pulls together available campaign financing data and tells you which way the company leans politically, though it's up to you to use this information.
"We're trying to make every day election day for people," Colbert told the Los Angeles Times. "For the first time ever, you're able to take that product and bring it to a whole new light. A quarter or tenth of a penny that went to a political contribution might not be something you know." 
And already, people are looking up the political leanings of their favorite companies:
And there can be some surprising results:
That's right: Even soy wax candles can be Republican. The world of politics is not always what it seems.