Zara Just Made a Huge Mistake With This Offensive Shirt for Kids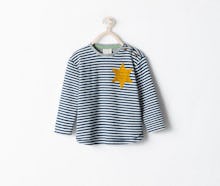 They are selling pajamas that bear a disturbing resemblance to concentration camp uniforms.
Zara, the company responsible, said that the outfit was inspired by classic "Old Western" films — apparently the gold star on the pajama shirt's top left corner was supposed to resemble a sheriff's badge.
And it does. Until you add stripes into the equation. Then it becomes a spitting image of the uniforms commonly worn in Nazi concentration camps during World War II. "It's a SHERIFF shirt for your 3-year-old. Obviously. What else could it be?" Dimi Reider, a writer for +972 Magazine, remarked sarcastically.
To its credit, the company withdrew the shirts from its stores, reports the New York Times. According to the Guardian, they were available in Israel, France, Denmark, Albania and Sweden. The clothing item was for children aged 3 months to 3 years old. 
The shirt attracted a storm of social media attention, and, unsurprisingly, most of it was negative. 
This is not the first time Zara has been embroiled in controversy. In 2007, they were forced to remove a handbag from shelves because it was embroidered with what looked like a swastika. 
h/t Daily Dot