The Best State for Gender Equality in America Has Been Declared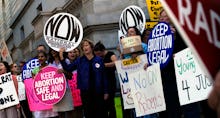 The United States has long struggled with a major gender equality problem.
With its continuing wage gap and difficulty elevating women to leadership positions, the country's legacy of institutional sexism continues to fuel disparities in employment, health care and educaton for women in each state, despite decades of progress. That forward movement arguably began 94 years ago this week, when a woman's right to vote was written into the Constitution. But in reality, there's still so much more work to be done to achieve lasting parity between the sexes.
In honor of Women's Equality Day, financial advice website WalletHub compiled a list of the best and worst states for women's equality. Overall, five states — Hawaii, New York, Maryland, Maine and Nevada — emerged as the most gender-equal states, based upon their combined rankings in a variety of categories. States were evaluated on data from a variety of categories, including workplace environment, education opportunities, access to health care and political representation. 
"By highlighting the most and least gender-egalitarian states, we hope to accomplish three goals: Help women find the best career opportunities, empower them to keep fighting for their rights and encourage states to learn from one another," WalletHub notes.
Even as the White House joins a rallying cry for action to make gender-equal pay a reality, the compensation gap is still widespread across the country, with Mississippi, Alaska and West Virginia proving to be the worst when it comes to equitable wage earnings. 
Image Credit: WalletHub
To determine the rankings, WalletHub used data from the U.S. Census Bureau, the U.S. Bureau of Labor Statistics and other federal departments to compare factors that affect the quality of life for both men and women. The report measured both sexes on 10 metrics, including salaries, unemployment rate, political representation, education, life expectancy and more. While analyzing the data, they gave a more favorable position to a state where women were advantaged on a particular issue. "We did this because the general consensus is that women are disadvantaged overall and therefore we wanted to recognize states that at least give an upper hand to women in some areas," their methodology states. 
Image Credit: WalletHub
The imbalance in work environment affects both women and the economy the most, as researchers have calculated without the pay gap, women would earn the equivalent of buying a house, putting two kids through college and feeding a family of four for almost six and a half years.
Although women make up a large portion of almost all labor forces, they are often sidestepped when it comes to executive positions; yet another major area of discrimination. The U.S. also ranks relatively low among its peers for women's political empowerment, coming in at No. 60 based on a 2013 report by the World Economic Forum, a number that shows just how tough it is for women to lead and break the proverbial glass ceiling. 
Image credit: WalletHub
The key takeaway from this new listing? Women and their allies can't rest on their laurels — we've got a long way to go before achieving true gender equality in America.