One Alarming Statistic Exposes a Serious Problem Between Police and Ferguson Residents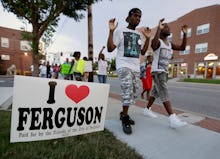 AP
If you thought the protests in Ferguson were only a response to the shooting and death of Michael Brown, these numbers might change your mind.
According to NPR, Ferguson's municipal court issued 32,975 arrest warrants for nonviolent offenses in 2013. 
That's for a city of 21,135 people.
All those fines and fees were a big boost to the city's finances. Of Ferguson's $20 million in revenue in 2013, $2.6 million of that was a result of these arrests. That's good for the city's second-highest income stream, NPR notes.
A racial disparity makes this much worse: Of course, those arrest warrants aren't handed out equally for everyone in the city. Many are issued for traffic violations, for which black residents are disproportionately stopped. Eighty-six percent of those stopped by police are black, even though they only make up two-thirds of Ferguson's population. Compare that to whites, who are stopped less than 13% of the time, despite making up 29% of the population.
Another infuriating thing to consider: While blacks in Ferguson were twice as likely to be searched after being stopped — and twice as likely to be arrested — searching whites was actually more likely to produce contraband, according to a report from ArchCity Defenders, a St. Louis-based public defender group.
"Folks have the impression that this is a form of low-level harassment that isn't about public safety," the group's founder, Thomas Harvey, told NPR. "It's about money."
Major impact: It's not just police procedures that take their toll. The ArchCity Defenders report notes that the municipal court in Ferguson will start hearings early, then lock the doors five minutes after the scheduled start time, meaning someone showing up just a little bit late for a hearing can receive an additional "failure to appear" fine.
The impact these procedures have on public opinion is clear. "They're searching to find something wrong," one defendant said in the report. "If you dig deep enough, you'll always find dirt."
Brown's death was a tragedy well beyond the scale of a car search or court fine. But statistics like these give insight into the anger of many protesters.