This Is What It Sounds Like to Quit Your Job and Go All Out for Music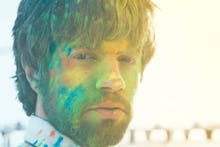 Many artists have heard some variation of "Don't quit your day job," whether from a well-meaning relative or a disgruntled boss. And while most of those artists would love to do exactly that, only a handful are able to turn their musical pastimes into full-blown careers. Burgeoning folk musician Anthony D'Amato is one of those fortunate few.
D'Amato, who recently left his own full-time job as a music publicist (and was once a music journalist), has been making waves with his forthcoming album The Shipwreck from the Shore, released via New West Records this past Tuesday. He's picking up a lot of steam — he's been praised by Spin and Paste, and he recently premiered a video on NPR Music. It's never easy for new artists to work their way up from complete anonymity to a record deal and a full-time career, but D'Amato represents a rare kind of workman-like diligence and devotion to his craft. Fueled by heartbreak, persistent study, hard work and a deep love of music, he's making his dreams real and that heart comes across his record loud and clear.
On the surface, there isn't too much to distinguish D'Amato from his peers. His modern take on folk rock places him among acts like Conor Oberst and Josh Ritter, the latter of whom D'Amato cites as a major influence, making him the latest in a very long line of guitar-toting troubadours vying for airplay and attention. But while the formula is nothing new, it's D'Amato's detailed, confessional lyrics, which he honed in college, that set him apart from his Mumford-mimicking counterparts, establishing him as a force to be reckoned with in acoustic music.
D'Amato began honing his craft as a child, learning piano in elementary school and picking up the guitar around age 12. "I think I knew from a pretty young age that I wanted to be doing music as a career," he told Mic. "It was always something that I felt really drawn to. I was always kind of working towards that as the goal."
He's approached that goal with some serious dilligence and care. He wrote his senior thesis at Princeton on Bruce Springsteen and has studied the music industry from the perspective of music journalism and music publicity alike. He began writing songs in high school and recorded his first album out of his dorm room at college, where he studied under Pulitzer Prize-winning poet Paul Muldoon. "He's a humongous rock music fan," D'Amato said of Muldoon, who is also a poetry editor for the New Yorker. "He wrote lyrics for Warren Zevon. So I had the opportunity, while I was in school, to work with him. The first record that I put out was a bunch of songs that kind of came out of this time I spent working with him on studying lyrics. We didn't work together on this record because I graduated a few years ago, but the things I learned from working with him are things I carry with me and things I think about when I'm working on lyrics every day."
Though D'Amato's writing chops have sharpened over the years, his process can still take him by surprise. "There's not one exact route that works for everything," he said of his songwriting. "Once it feels like there are some words that are fitting the actual shape of the song and the feel of the song, then I start to dig down into the lyrics and find out what the song is about and try to build it out from there. Other times I'll wake up and I'll have a whole verse in my head."
D'Amato also credits his experience working in the industry as being integral to his success as a musician. "I've always been of the opinion that the more you can know about all sides of the music industry, the better," he explained. "At the end of the day, no one is as invested in it as you are, in terms of your career and your music. So being able to understand the other moving parts that are going on, like publicity and radio and marketing, is really important. It's great to hand those off to the people who are the experts, but to be in the loop and aware and part of the decision-making process is really important."
Part of that studious approach to music is D'Amato's abillity to assemble a folk dream team on this record. It's still early in the game for D'Amato, but he's already seen some long-held dreams come true. "Josh Ritter is one of my favorite songwriters in the world," he said. "I got to play a show with Josh after we finished the record, which was a very cool experience." D'Amato was also able to work with Ritter's longtime collaborator Sam Kassirer, who produced The Shipwreck from the Shore, and members of Bon Iver and Megafaun, two dominant bands in the modern indie-folk scene. 
D'Amato's story might sound too good to be true, but it was one that unfolded with a lot of hard work and careful planning. "I'd been waiting for the right time to make that leap," he explained. "If you do it too soon, you're not going to land well and it's not going to last and you're not going to be able to sustain it. So I was trying to keep building things up until the point I was able to make that leap and hit the ground running."