12 Young Adult Books That Get Sex So (Awkwardly) Right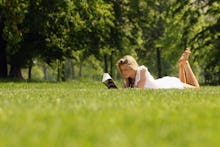 Sex scenes in literature tend to follow the same tired tropes. There's romance, there's sex, and it's all magical with orgasms for everyone. Not only are these scenes boring, they're misleading for young women just becoming familiar with their own sexuality — women who are very often the target demographic for the books in question. Sure, it's fine to show the ideal version of sex, but there's equal importance in reading about something more true to life. It's all too easy to think there's something wrong with you if your own first (or hundredth) time doesn't look (or feel) like perfection. 
It's rare to happen upon literature that shows the real, awkward, sometimes beautiful, sometimes scary, sometimes neutral world of sex, especially when it comes to young women. So we gathered a list of young adult books that talk about sex in a positive and productive way. 
Get reading, and you'll find your sex life is way more normal than you think. It's not all candles and rose petals, and when you're just figuring out your own sexuality, it's important to keep that in perspective.
1. 'Forever...' by Judy Blume
Any list of books about young female sexuality has to start with Blume's Forever ... The novel has been the go-to coming of age read for young women discovering their sexuality since its release in 1978. Playwright EV Crowe paid tribute to the novel's role in her own adolescence in the Guardian: "Often, it feels painful looking back, remembering the days when virginity held you in its grim grip, and you didn't even own your own jeans. But rereading the book isn't cringe-worthy, it's uplifting. This book has helped to make most women I know what we are, in the way that only literature can."
This book stays remarkable for its lack of shame surrounding the topic of female sexuality, hilariously and poignantly paying attention to details from penis nicknames to bodily fluids. 
2. 'The Miseducation of Cameron Post' by Emily M. Danforth
When Cameron's parents die in a car accident, she feels grief — but also relief. Their death means she will never have to tell them the secret she has only recently realized: She's gay. Set in rural Montana in the early 1990s, Cameron moves in with conservative relatives and falls in love, but is eventually outed and sent to a religious camp to "cure" her sexuality.
Jacqueline Woodson, author of Hush, described the novel as "a beautifully told story that is at once engaging and thoughtful ... an important book — one that can change lives." It was also a finalist for the YALSA Morris Award, an honor for debut YA authors from the American Library Association. 
3. 'You Against Me' by Jenny Downham
Downham takes on sexual assault in this young adult novel about choice and love. Mikey is distraught when his sister Karyn says she was raped at a party; their friend Ellie can't believe it when her brother Tom is charged with the assault.
Despite the pressure of their circumstances, when Mikey and Ellie meet, they find themselves falling in love. The book is painfully aware of the tenderness of teenage sexuality, and writes credibly about the characters' struggles as they grow into adults. In the New York Times' review, Emily Bazelon found the strength of the book lies "in allowing for plenty of moral ambiguity. Mikey's mother wonders why her daughter Karyn got so drunk at Tom's house and whether it would have been better if she'd never encouraged her daughter to go to the police. Ellie wonders how Tom could have known Karyn wanted to have sex with him, as he claims, given the drunken state she was in." Ambiguity is prevalent in real-life sexual encounters, especially for teens, but rarely present in novels. The real meaning of consent takes center stage in You Against Me, an important conversation that's rarely broached in YA books.  
4. 'The Summer Prince' by Alaya Dawn Johnson
This book will satisfy any lover of dystopian novels, taking place in an Afro-Brazillian society where social class (or "tier") is everything. As the main characters (June, Enki and Gil) start to question the political system they live in, they also begin to explore their own sexuality. This book is remarkable in the world of young adult fiction for featuring characters of color who explore bisexuality and even polyamory without judgment.
Petra Mayer, who reviewed the novel for NPR, said, "Yes, this is a YA-dystopia-love-triangle story, but how unusual to see the heroine become the third wheel to a sensitively depicted gay relationship. And how deliciously unusual to read a YA dystopia that's comfortable with ambiguity and nuance. This is a book that doesn't condescend. Gil, June and Enki find themselves having to tread carefully as they work out their own answers to a host of questions about love, art, technology, tradition — even sex."
5. 'Looking for Alaska' by John Green
Looking for Alaska only touches on sex briefly, but significantly enough to be banned in some school districts. When two characters try to have oral sex for the first time, they have no idea what they're doing, to the point where they have to ask their friend for help. When they're done, one breaks the embarrassed silence by proposing they do homework.
Green said in a vlog about the controversial oral sex scene that he included this scene in order to draw a contrast: "The argument here is that physical intimacy can never stand in for emotional closeness and when teenagers attempt to conflate these ideas, it inevitably fails."
6. 'All Our Pretty Songs' by Sarah McCarry
For lovers of fantasy novels, this is the sex-positive book for you. The first of a trilogy, the story follows a nameless narrator and her best friend Aurora as they face mythical creatures and discover their own sexuality. The love story is surprising, and even more importantly, this is one of the only young adult novels with female masturbation. Instead of being shameful, it is powerful, and a natural part of the character's behavior. 
The novel doesn't linger on this moment, instead focusing on what Booklist describes as a "rich narrative [which] is as smooth and seductive as Aurora and Jack can be."
7. 'Nick and Norah's Infinite Playlist' by Rachel Cohn and David Levithan
This quick read is a light YA romp that takes place over a night spent together. Nick and Norah are instantly attracted to each other, and have no shame in following that attraction wherever it takes them. Beyond beautiful descriptions of their physical attraction, the novel also switches between their perspectives, so we are able to see how both partners react to this whirlwind encounter. 
The Bulletin described the novel as "electric, sexy ... and genuinely poignant ... a compelling story of the risks and thrills of burgeoning intimacy." It shows the real effects of lust and intimacy on teenagers who've just met, without talking down to them.  
8. 'Dramarama' by E. Lockhart
Sarah, a straight white girl, and Demi, a gay black man, are brought together by their love of theater. However, when they go to a summer drama camp, their friendship is put to the test as Demi starts to ditch Sarah for actual boyfriends. While the topic may seem trite, Lockhart brings the characters to life for a surprisingly poignant take on love in both friendship and romance. 
All of Lockhart's novels are sex-positive, but this one stands out for its focus on two very different best friends. School Library Journal writes, "Teens will identify strongly with both the heartbreak and the humor in this authentic portrayal of friendships maturing and decaying."
9. 'Where the Stars Still Shine' by Trish Doller
Callie was kidnapped by her mother as a child, and has been living on the road ever since. She has lived through sexual abuse from her mother's boyfriends, and these traumatic memories have prevented her from exploring her own sexuality. But when she has the opportunity to make a home for herself with her father, she meets Alex, a boy who genuinely cares about her and her experiences. Through this relationship, she begins to realize that she can feel joy from her sexuality. 
Stacked describes Callie as "nervous and scared ... It's real and true to who she is and what her own experiences in intimate situations have been. But as she learns to trust the world around her and trust herself, she's able to have a satisfying relationship that is truly earned, rather than given." A must-read for anyone whose sexual discovery has been complicated by abuse. 
10. 'Sloppy Firsts' by Megan McCafferty
The first book in the Jessica Darling series follows Jessica as she faces high school after her best friend moves away. She's a delightful narrator, and thinks about sex all the time, a remarkable occurrence in literature for something so common in reality. She even decides to have sex with a guy she isn't in love with, and isn't ashamed of her decision. This book has a candid approach to teenage sexuality, and helps girls learn that their lust isn't the enemy. The Wall Street Journal described McCafferty's style as "Judy Blume meets Dorothy Parker," delivering a perspective on sex updated for this generation.
11. 'The Nature of Jade' by Deb Caletti
This book is remarkable for its narrator, Jade, who gets panic attacks. Instead of being defeated by her anxiety, she takes control of her body and her sexuality. When she falls in love with a single father, the novel enters a beautiful exploration of how medical and personal complications can affect one's sexuality. 
The Bulletin for the Center of Children's Books said that "[i]n Caletti's careful hands, this isn't just a romance; it's also a playing out of Jade's slow-coming independence, and the romance is a factor affecting her rich and believable family dynamics." The novel looks at sexuality as just one of the elements that goes into a relationship and a life, and shows how it can both complicate and clarify. 
12. 'Lost It' by Kristen Tracy
This uproarious young adult novel follows high school junior Tess, who believes she will stay a virgin until she's engaged. When she falls in love for the first time, everything changes, and she loses her virginity. But contrary to most young adult sex cliches, nothing really changes after sex: Despite heartbreak, Tess is happy with her decision and proud of her sexuality, not to mention as hilarious as ever. 
The School Library Journal writes that readers will both laugh out loud and "will also empathize with her feelings of not being in control of her life. They will also be heartened by the conclusion of the novel, for even though Tess is unsure of what will happen next, she has finally come to terms with the fact that life offers no guarantees." Part of embracing your sexuality is learning to accept the vulnerability that comes with life, and this book addresses that often-difficult transition in a funny and relatable way.