These Women Are Stripping Down to Show What Real Beauty Really Looks Like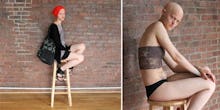 StyleLikeU
"It is not about wanting to be someone else. It is comfort in your skin. It is your spirit. It's What's Underneath."
That's the message behind The What's Underneath Project, a video series by the lifestyle website StyleLikeU. In the videos, subjects are asked to share their thoughts about true beauty and style, all the while stripping down to their underwear and revealing their innermost selves to the camera.
On Monday, the site shared a particularly resonant, powerful video featuring model Melanie Gaydos, who suffers from a condition called ectodermal dysplasia. In the video, Gaydos spoke candidly about judgment and discrimination she faces from other people, and how she has come to embrace her own body and appearance.
"We are all mirrors to each other, and I think a lot of people, they tend to project their bullshit. So I have to remember that if anyone says something to me, like judge me in a certain way, it's really just a question of themselves and their own issues that they're dealing with," Gaydos says in the clip.
"I have thought about what life would be like if I was born without a cleft palate and with a full head of hair, and I think I would be really boring. I think it wouldn't be very exciting," Gaydos continues. "Even though I've been through a lot, they're my experiences, and I like where everything has brought me today. I like where I am."
And there are many more stories like Gaydos' on the website, dealing with diverse issues such as racism, depression, sexism, ageism, disability, eating disorders and body image — and how they influence the beauty standards that society imposes on us.
"The primary objective of the project is to empower people to realize that true style is not about money, trends, Photoshopped imagery or a singular ideal of beauty," project co-founder Lily Mandelbaum told TODAY.com. "By asking people a series of intimate questions about style, body image and self-expression, while simultaneously having them remove their clothing, we want to show people that true style is about the authentic person inside the clothes, their confidence, their spirit and their willingness to express themselves honestly."
Check out more of the stories from The What's Underneath Project below, and click the links to the video interviews:
1. 
"There's so many girls in this world who have the same body as me. ... It's important for me to be sitting here. I need to get over myself because it's important for somebody else to see that — the girls who are my size who would never even think of doing it, who are hiding." - Paloma Elsesser
2. 
"For the first time, I like myself on the inside." - Tallulah Willis
3. 
"It's time to take the jacket off of the book and get to the essence. There's an epidemic of poor body image for women, especially at my age. ... Learning to love myself was very hard; it took intention and practice. For the first time, I am good this way." - Jacky O'Shaughnessy
4. 
"It's boring to see the same people; if you're different, it's sunlight in somebody's world." - Jillian Mercado
5. 
"I've grown up my whole life playing second fiddle to the pretty girl. And it took a really long time for me to realize that it's OK for me to be who I am, and that in somebody's eyes, I might be the pretty girl." - Meredith Graves
6. 
"Everything that was an insecurity to me, I had to get rid of. ... I've had to learn healthier ways to cope with stress and to deal with body image. I'm learning to become more secure in my body." - Eryn Lefkowitz