Russia Is Invading Ukraine as We Speak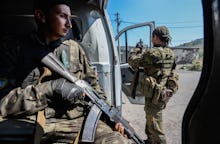 Russian forces are invading Ukraine. Whether it's an act of war, though, depends on whom you ask.
Soldiers, tanks and artillery are crossing the border from Russia; many, apparently, are joining forces with pro-Russian separatists. "There are active soldiers fighting among us who preferred to spend their vacation not on the beach, but with us, among their brothers, who are fighting for their freedom," separatist leader Aleksandr Zakharchenko said on Russian television. "There have been around 3,000-4,000 of them in our ranks."
Ukrainian leaders have not been shy about calling for an international response to the invasion. "The world must provide assessment of sharp aggravation of the situation in Ukraine," President Petro Poroshenko said in a statement, while Prime Minister Arseniy Yatsenyuk said that Russian President Vladimir Putin had "unleashed war in Europe."
How is that not war? When you're the U.S. and you're trying to help negotiate a peace deal, you tend to back off loaded terms like "war." As Vox explains, formally recognizing Russia's invasion might make it much harder to get Putin to agree to a ceasefire.
Check out the phrasing from White House national security adviser Susan Rice:
It's a strong message of support for Ukraine and a confirmation of its leaders' statements that Russia is sending in military forces. But, despite calling Putin's move "unacceptable," Rice never calls it an invasion or an act of war. It's an "incursion" and an "escalation." Silly as it may seem, a world where Russia is escalating is much easier to negotiate in than a world where Russia is at war.
Our neighbor to the north, meanwhile, holds no such pretensions:
What happens next? According to Ukrainian officials, a joint force of separatists and Russian soldiers are marching on the southeast part of the country, having recently taken the coastal town of Novoazovsk. Ukrainian soldiers retreated back along to the coastal city of Mariupol, which Ukraine worries could be next in line if separatists are on the offensive.
Reuters notes that taking Mariupol could allow separatists to turn north toward Donetsk, the large industrial city currently under their control. Ukrainian government troops surround Donetsk, but reinforcements from Mariupol (and soldiers, tanks and artillery from Russia) could allow separatists to push out and claim more cities.
Russia still claims that it has not ordered any sort of invasion, and that any Russians who are fighting in Ukraine are there of their own accord. Meanwhile, the five-month conflict's death toll continues to rise. The U.S. maybe be holding its tongue hoping for a peace agreement, but whether it's called an invasion or an escalation, it looks like conditions are going to get worse before they can get better.