Watch the Hilarious, Nostalgic 'Friends' Reunion We've Been Waiting For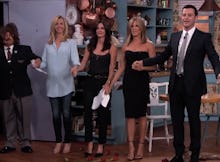 In case you didn't hear the screams of the audience across the globe Wednesday night, the women of Friends reunited on Jimmy Kimmel Live in an exact replica of Monica's kitchen to perform a scene from Kimmel's Friends fan-fiction.
In the bit, Jennifer Aniston, Courteney Cox and Lisa Kudrow reunited to talk about Ross — played by Jimmy Kimmel — and his exceptional lovemaking. Although some of the (staged) reluctance is a bit much, it's still hilarious and nostalgic — if a bit easy. There's even a nod to "the Rachel" via a wig tucked in the freezer (a la The Shining or Little Women), and Aniston's comedic timing is clearly still pitch perfect. 
The surrealist sketch comes just in time for the Friends 20th anniversary next month, which is already picking up steam and excitement with commemorative events in the works. It was announced this week that a replica of Central Perk will open up for a month in New York City by Warner Bros.
Friends first appeared on our screens on September 22, 1994, and has continued to hold the attention of those who watched it (and those who've read countless listicles about it) for 20 years since. Other celebrations of the fab six have yet to be announced, but with Friends' huge popularity, there's sure to be more 20th anniversary hoopla in the next few weeks.
And until then, we have Kimmel's erotic fanfiction and enormous budget to tide us over.