The Uplifting Reason This Spanish City Is Now Covered in Bras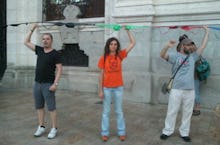 The city hall building in the Spanish city of Valladolid has been wrapped around with bras — and it's pretty amazing.
The dramatic display of undergarments was carried out Monday after hundreds of people converged on the building and chained bras to its pillars. The evocative protest was in response to highly sexist and insensitive comments recently by the city's mayor, Francisco Javier León de la Riva, perpetuating some of the worst aspects of rape culture.
In an interview with a public radio station, Riva, 68, who's been Valladolid's mayor for 19 years, warned men that some of the sexual violence being reported in his city were actually women trying to frame innocent men for assault.
"I have qualms about getting into an elevator," Riva, from the conservative People's Party, said, according to the Agence France-Press. "Imagine you get into an elevator and there is a girl who is out to get you. She enters with you, tears off her bra or skirt and flees, shouting that you have tried to assault her," he said. "Beware of this kind of thing."
Riva's remarks come only a week after Spain's Interior Ministry released a widely criticized list of guidelines for women to avoid rape. It included suggestions like closing your curtains, keeping your first name off your mailbox, leaving lights on in more than one room and — wait for it — refusing to get into an elevator with a stranger. Riva would probably have something to say to that. 
"It's a form of scaremongering — it puts the blame on women, and it stops them from taking responsibility," Socialist Party spokeswoman Carmen Montón tweeted about the anti-rape guidelines, according to the Local.
Riva's scapegoating, meanwhile, was received even less favorably. Citizens quickly took to Twitter to express their frustrations using the hashtag #EscracheDeSujetadores, which translates roughly to "bra protest."
"It was a good way to sum up the indignation of women and of decent men in this country," the hashtag's creator, Barcelona social activist Ada Colau, told the BBC. "But also it's a way of showing machistas like this mayor that they're not going to take away our dignity or our sense of humor." She added that she had not expected women to take the protest quite so literally, however.
Some who could not make it to city hall even staged their own versions of the protest at home:
Riva's regressive reasoning went so far as to alert women to the fact that as "you can't have a police officer in every park," women need to take more responsibility for protecting themselves in case someone does decide to try to rape them.
"At six in the morning a young woman should be careful of where she goes," he noted.
Clearly, his constituents disagree.
"We can't just sit back and take these comments," Marisol Morais, spokesperson for La Coordinadora de Mujeres, an organization coordinating several NGOs, political parties and women's groups in Valladolid, told the Guardian. "This is the man who's charged with looking after citizen security in our city," 
This protest comes at a pivotal moment for women's rights advocates in Spain. The country has recently engaged in a nationwide debate about sexual violence in its culture, spawning hashtags like #MachismoMata and #NoEstasSola, meaning "you are not alone," crafted to fight back against the stigma of rape reporting, and to combat worries from victims that the police won't believe the crimes actually happened.
Perhaps not surprisingly, this is also not the first time Riva has found himself in hot water following insensitive public comments about women, including fellow politicians. Speaking about a female political rival in 2007, he said "they've accused me of everything except raping her."
And again this year, Riva made ridiculous remarks about women playing male-dominated sports, suggesting that instead of something like rugby, girls should try their hand at something more feminine, like "rhythmic gymnastics or skating." "Rugby isn't appropriate for women," he told a radio station, according to the Guardian. "It's not sexist but I don't think it's good for 20-year-old women and even younger 8-year-old girls to tackle so hard."