Austin's New, Pro-LGBT Proposal Is the Awesome Innovation All Cities Should Copy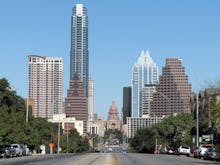 Once thought of as politically correct oddities, gender-neutral restrooms are finally being taken seriously by colleges, businesses and now, whole cities.
The Austin City Council in Texas on Thursday joined the push for bathroom neutrality, introducing a resolution requiring single-stall public restrooms to be gender-neutral. If passed, Austin will follow in the footsteps of other major cities, including Washington D.C. and Philadelphia, that have passed resolutions protecting the safety of transgender, gender queer and gender non-conforming individuals when using public restrooms. Austin would also be the first city in Texas to implement such a law.
There are several benefits of gender-neutral bathrooms, but transgender people may stand to gain the most. As Sasha Buchert, staff attorney for the Transgender Law Center, told the Huffington Post in July, when transgender or non-binary people are forced to use bathrooms designated for "male" or "female" patrons only, it "repeatedly 'outs' them to other students or employees and stigmatizes them daily by singling them out."
Image Credit: Bart Everson/Flickr
Chris Riley, who sponsored the resolution, touted Austin's status as a culturally progressive city, noting that gender-neutral bathrooms are a logical next step for the region.
"Austin has demonstrated leadership on LGBTQ issues, and gender-free restrooms are one more way that we can lead," Riley said in a statement, according to the Houston Chronicle. "This change will make our city safer and more inclusive, which is better for all Austinites."
This resolution is a response to the Human Rights Campaign national call to action for gender-neutral restrooms in places of employment across the country.
Employers are legally required to provide workers reasonable access to restroom facilities. The U.S. Department of Labor's Occupational Safety and Health Administration requires that employers make toilet facilities available so that employees can use them when they need to do so, and the employer may not impose unreasonable restrictions on employee use of the facilities.... Not having reasonable access to restrooms is a tremendous distraction that no employer should impose on its employees.
But not everyone is happy about the proposal. Conservatives have attempted to counter such ordinances and policies across the country, with arguments ranging from the openly homophobic and transphobic to simple befuddlement.
When Illinois State University announced its decision to re-open several of its single-stall campus restrooms as "all-gender" earlier this summer, the cast of Fox & Friends seemed unable to wrap their heads around the "confusing" concept. Ironically, most of the average viewers Fox interviewed had absolutely no trouble figuring out the bathrooms.
As observed in the Austin Chronicle, however, it is not only gender non-conforming individuals who benefit from such legislation: "People who are disabled and rely on the help of family members or attendants of the opposite sex, and parents with children of the opposite sex won't have to worry about which restroom is the more appropriate to use."
Safety, in terms of use and access, is key not only in places of employment but also in schools and on college campuses, where the crux of the gender-neutral restroom movement is occurring.
According to UMass-Amherst's LGBTQ student organization, "There are more than 150 schools across the U.S. that have gender-neutral bathrooms." Since there is no federal law prohibiting discrimination on the basis of gender presentation or expression, resolutions like the one in Austin are imperative to ensuring the safety and well being of individuals of all genders, abilities and ages.