The WHO's Latest Report on Africa's Ebola Outbreak Is Seriously Alarming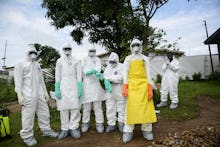 The news: World Health Organization doctors warned Thursday that the Ebola virus epidemic in West Africa could eventually grow to as many as 20,000 cases, over six times the currently understood scale.
The WHO also said a new containment plan estimates that the number of cases in the worst-hit areas may be two to three times as high as officially recognized. New figures indicated 1,552 of 3,069 confirmed cases have resulted in death in Liberia, Sierra Leone, Guinea and Nigeria, while at least 40% of all cases appeared in just the past three weeks.
The epidemic in West Africa has shown no signs of slowing down, and it may soon expand in an unprecedented way that threatens to devastate local populations and overwhelm the region's health authorities. Experts are particularly concerned about the threat of an outbreak in urban centers, which would complicate containment programs immensely.
The background: The WHO also announced a $489 million, seven-month plan to curb Ebola, involving  750 international and 12,000 local workers. While the WHO doesn't necessarily expect the 20,000 case number to become a reality, it believes the threat is serious enough to plan and commit resources for the possibility.
The federal government and GSK recently announced plans to begin testing an experimental Ebola vaccine using accelerated human trials, which are on track to be finished by the end of the year. If the trials are successful, GSK will be able to provide about 10,000 doses of the vaccine for immediate distribution by the WHO and could help turn the tide against the disease.
"These outbreaks affect the poorest communities on the planet," Tulane University infectious disease expert Daniel Bausch told Vox. "Although they do create incredible upheaval, they are relatively rare events. So if you look at the interest of pharmaceutical companies, there is not huge enthusiasm to take an Ebola drug through phase one, two, and three of a trial and make an Ebola vaccine that maybe a few tens of thousands or hundreds of thousands of people will use."
Current Ebola fatality rates range from 66% in Guinea to 42% in Sierra Leone, a testament to better medical care that has prevented even more of the infected from dying. But with the possibility of a large number of unknown cases, it's impossible to estimate just how much the Ebola outbreak is resulting in death in West Africa.
Why you should care: As Ebola threatens to become endemic throughout West Africa, the WHO and other health organizations are stepping up. Hopefully it will be enough, but massive effort is required to keep the disease from further harming West African citizens or spreading to other countries.
"It's even worse than I'd feared," CDC director Tom Frieden said Wednesday. "Every day this outbreak goes on, it increases the risk for another export to another country. The sooner the world comes together to help Liberia and West Africans, the safer we will all be."