What Happened to This Navajo Kindergartner at School Is Discrimination at Its Worst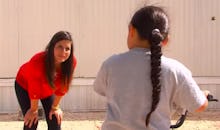 Every kid remembers the first day of school, but one kindergartner will remember it for all the wrong reasons. 
5-year-old Malachi Wilson arrived at F.J. Young Elementary School on Aug. 25, eager and excited to make new friends and start his journey of learning. That all came to a screeching halt, however, when school officials caught sight of the Navajo child's long, braided hairstyle, a cultural tradition representing his spirituality. Told the hair was too long — for a boy — Malachi was sent home, reports Native News Online.
"It's kind of heartbreaking because how do you explain to a five-year-old that he is being turned away because of what he believes in, because of his religion, because of what's part of him," Malachi's mom, April Wilson, told CBS 7. "How do you explain that to him?"
Only after Wilson showed documentation proving her son was truly Navajo was Malachi allowed to return to school, she said. But he'll never get that first day back.
Officials at the Seminole, Texas school say they were simply following the procedure outlined in their dress code. Indeed, the dress code includes explicit instructions for hair styles — albeit only for male students:
Boys' hair shall be cut neatly and often enough to ensure good grooming. When combed straight forward, the hair shall be above the eyebrows and may not extend below the bottom of the collar of a sport or dress shirt or the top of a t-shirt, and, when combed over the ear, may cover no more than the top half of the ear. 
Even if this wasn't an expression of a deeply-held heritage, it is deeply problematic that boys are being told that long hair is somehow unacceptable or disruptive.
In an ironic twist, Native News Online reports that a sign near the F.J. Young Elementary School gymnasium welcomes students with the greeting: "Welcome to the Tribe. " As reported by Aura Bogado at Colorlines, the school appropriates Native American imagery for its mascots, calling their students "Indians and Maidens."
Image Credit: Lauren Lanmon via YouTube
Unfortunately, this isn't the first time — and it certainly won't be the last — that a child of color has been reprimanded for maintaining hairstyles that reflect his or her ethnic, cultural or religious roots.
Recently in a Louisiana school, an unnamed Rastafarian teen was placed on indefinite suspension because he refused to cut his dreadlocks, a hairstyle in line with his family's religious beliefs. As reported by The Raw Story, Rastafarians believe Leviticus 21:5 forbids them from cutting their hair. Now, the ACLU of Louisiana is intervening on his behalf, but the young man has missed the first two weeks of school as a result.
video platformvideo managementvideo solutionsvideo player
And in fall 2013, 12-year-old Vanessa VanDyke was told she'd have to cut her natural hair or face expulsion from her Orlando, Fla., school. According to local reports, students began teasing her, and the hair became a "distraction" for school officials. Eventually, they backed down.
VanDyke said in an interview that her hair is part of what "makes me unique."
One day, school administrators will learn that children, too, are individuals with a range of religious beliefs and ethnic and cultural backgrounds that should be celebrated, not scorned. But at least 5-year-old Malachi will now be able to start fresh at his brand new school, even if his first day of kindergarten was stained by prejudice.