What Happened With One Chicago Police Officer Is Excessive Force at Its Very Worst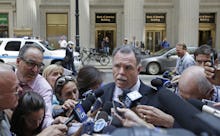 The news: A Chicago police commander was arrested and stripped of his badge this week after taking excessive force to an unbelievable level: Sticking his handgun into a suspect's mouth and threatening to blow his brains out.
Investigators told reporters that Cmdr. Glenn Evans, who commanded South Side's Grand Crossing patrol district, had gone out on duty with two officers the night of Jan. 30. The officers reported seeing 24-year-old Rickey J. Williams with a handgun, who ran when approached by Evans. The cops chased him to an abandoned building and booked him for reckless conduct after failing to find the weapon. The charges were later dropped.
Williams alleges that Evans put the barrel of his revolver in his mouth while he was being restrained, and a State Police report found traces of Williams' saliva on the gun. Evans is now no longer allowed to exercise his police powers and has been charged with official misconduct and aggravated battery, though the police department has not fired him.
The background: The Chicago Police Department has a long record of allegations of excessive force and looking the other way when officers break the law. According to the Chicago Tribune, Evans was just one of "662 officers with 11 or more complaints during a five-year period in the 2000s, newly released police records show. He had 14 complaints between 2001 and 2006 and faced no discipline for any of them." Chicago had 11,944 officers as of 2012, so that means at a minimum over one out of 20 CPD officers raised serious red flags.
A 2013 report from UC Illinois wrote that the CPD "has a checkered history of police scandals and an embarrassingly long list of police officers who have crossed the line to engage in brutality, corruption and criminal activity." In their conclusions, the authors claimed that an "embarrassingly large number [of] police officers violate citizens' rights, engage in corruption and commit crimes while escaping detection and avoiding discipline or prosecution for many years." 
Between January 2009 and November 2011 alone, the Chicago Reporter estimated that misconduct cases cost the city an astonishing $45.5 million. PBS reports that 75% of those cases were for excessive force and that an Illinois probe into two decades of police-sanctioned torture was shut down after only investigating five cases.
Why you should care: While it's great that Evans is being punished for his misconduct, the CPD has a long way to go to reform itself. Chicago continues to have massive problems with police disregard for the law, in addition to widespread corruption among city agencies, meaning stories like these could potentially filter out of Chicago for years to come.