Here's How Women Actually Feel About the Republican Party — And It's Not Pretty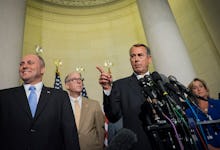 Republicans are doing some soul-searching, and they're finding that perception of the party among women is woefully poor.
Politico reports that two major Republican groups, Crossroads GPS and American Action Network, recently presented the findings of an internal report to congressional aides this month. The report, which was obtained exclusively by Politico, relays a brutal message for Republicans heading into the midterms, finding that 49% of women hold an unfavorable view of the party.
Female voters found the GOP "'intolerant,' 'lacking in compassion' and 'stuck in the past,'" according to Politico's account of the report's conclusions. The report's authors also stated that Republicans "fail to speak to women in the different circumstances in which they live... This lack of understanding and acknowledgment closes many minds to Republican policy solutions."
Titled "Republicans and Women Voters: Huge Challenges, Real Opportunities," the survey included a poll of 800 registered voters and insights gleaned from focus groups with women around the country. One of the groups that commissioned the report, Crossroads GPS, is backed by Karl Rove. A spokesman for American Action Network told Politico that "it's important for conservatives to identify what policies best engage women, and our project found multiple opportunities... It's no surprise that conservatives have more work to do with women."
That is true — it is certainly not a shock that the Republican Party's image among women is so low. Democrats have blasted Republican policies as anti-women for years, and have not hesitated to frame the GOP's stance on everything from health care to immigration as part of a "War on Women." The parade of Republican candidates and office-holders making sexist comments hasn't helped their cause either.
The Democrats' efforts appear to have paid off, at least for now. From Politico: 
When female voters are asked who "wants to make health care more affordable," Democrats have a 39% advantage, and a 40% advantage on who "looks out for the interests of women." Democrats hold a 35-point advantage with female voters who care about jobs and a 26% advantage when asked which party is willing to compromise.
Even worse for the Republicans, the report notes that policies that were meant to appeal to women have fallen flat. More flexible work schedules and charter schools, two major initiatives embraced by congressional Republicans as a way to win over female voters, were ranked near the bottom of women's concerns.
The Republicans still have a long way to go before they make significant inroads with female voters. At least now they know it.