Of Course Kim Jong-un Is a Manchester United Fan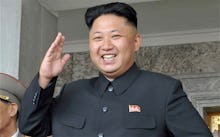 Manchester United fans are often derided by rival supporters as glory hunters.
This time, it's beyond dispute.
North Korean leader Kim Jong-un has reportedly gone public with his love for the world's most popular sports team in the most Kim Jong-un way imaginable. According to the Daily Mirror, the 31-year-old Dear Leader has ordered state-run Central TV to broadcast all United's matches on national television.
If the 20-time English league champions' matches are indeed being aired to those lucky enough to have TV in North Korea, it's being done illegally. An FA spokesman told the Daily Star: "Nobody has the rights to broadcast Premier League football in North Korea so if this is happening then it is copyright theft, plain and simple."
Kim's love for sports is not limited to soccer. He's reportedly asked for his father Kim Jong-il's favorite sport golf — remember the fabled round of 38-under par? — to be added to the TV schedule too, along with instructional shows on horse riding. And if there's one thing that Kim shares with archrival Barack Obama, it's his love for the NBA. In boarding school, Kim "worshipped basketball stars" and drew pencil drawings of Michael Jordan, according to a 2009 Washington Post profile of him.
And it's quite well-known that when Kim sets his heart on something, he gets it done. After all, we are talking about a guy who had seven former NBA players fly to his home to play an exhibition game in honor of his 31st birthday. This rare on-call basketball service could be made possible through former NBA star Dennis "The Worm" Rodman, who's now like friends-for-life with Kim Jong Un. Rodman even described arguably the most hated ruler in the world as a "good-hearted kid" when he first visited his private island last year. 
Image Credit: AP
Dictators' trysts with sports represent an intriguing combination of their desire for authority and domination in a field they otherwise can't control, primarily for propaganda purposes. For Mussolini, a win for Italy in soccer was also a victory for his fascist beliefs and state. Or as in African nations, where a lot of dictators like Zaire's Mobotu, Nigeria's San Abacha and Uganda's Idi Amin invested huge amounts of money in soccer to raise their personal profiles and divert attention from their other actions.
Later-toppled Libyan despot Muammar Gaddafi had used his influence to get his soccer-mad son on many teams. The start was with Al Ahli Football Club, the country's top soccer club in the capital city of Tripoli, where Saadi Gaddafi was the only player to have his name on his shirt so that media and commentators could only refer to him. But when that wasn't enough, the senior Gaddafi put in millions for his son to be able to play in Perugia, a club in Italy's Serie A. And according to the Daily Mail, no less a player than Diego Maradona was hired as his personal coach.
But dictators and their ilk don't like losing either, so don't be surprised if Kim's love affair with Manchester United — who are off to a dismal start — proves short-lived.