How the Fight for One Company's Soul Proves Workers Still Have a Voice in America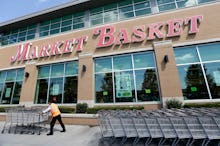 A New England discount supermarket chain has provided a glimmer of hope against a bleak backdrop for American workers. The Massachussetts-based grocer Market Basket pays its employees well, treats them with respect and keeps prices low. The loyalty this has fostered is a perfect example of why treating employees with the humanity they deserve isn't just the right thing to do — it's also good for business.
The man behind this employees-first strategy is Market Basket's longtime leader, Arthur T. Demoulas (affectionately known as "Artie T."). When he was ousted in a corporate coup this June, employees organized and fought for weeks to have their beloved CEO reinstated.
In what has become perhaps an all-too-rare twist in modern America, the employees got exactly what they wanted. On Thursday, shareholders announced a deal to bring Artie T. back. The triumph of the employees of this regional grocery chain gives hope to workers and labor activists across the country that their voices can still be heard.
"Never underestimate the power of your employees."
"We might have paved the road in a different direction for corporate America, where employees have more of a say in how a company is run," Mike Dunleavy, a store manager at Market Basket's Somerville, Mass., branch, told Mic. Dunleavy has worked at the company for 35 years. "They'll probably have a class on us at Harvard's business school," he said.
Market Basket was started by Greek immigrants Athanasios and Efrosini Demoulas in Lowell, Mass., in 1916. Its headquarters are still located right down the street, but the company has grown into a New England institution, with 70 discount supermarkets across New Hampshire and Massachusetts, plus one in Maine. The success of the brand has made two of the founder's descendants, Artie T. and his cousin Arthur S. Demoulas, some of New England's richest men. But that money has caused some strife.
The current Market Basket saga can be traced to a shareholder lawsuit in the '90s, which ultimately split the company between Artie T. and Arthur S., two men with completely opposite ideas about how to run a company.
In June, Arthur S. and an alliance of board members fired Artie T., who had been CEO since 2008. It's widely believed the move was not just part of a family feud, but rather was part of an attempted corporate takeover. In late July, the Boston Globe revealed that Arthur S. had initiated talks with private equity giant Cerberus, which owns big corporate grocery chains like Safeway, Shaw's and many others.
But under Artie T.'s leadership, employees say they loved every day of work. When he was ousted, employees feared their beloved employer was about to radically change. That's when protests really heated up.
For weeks, virtually all of the company's 25,000 employees (the company calls them "associates") protested outside nearly every Market Basket location. As many as 90% of customers refused to shop in the stores. The effort cost the company millions of dollars each day.
But the protests worked. Late on Wednesday evening, Market Basket announced that Artie T. had reached a deal to purchase the rest of Arthur S.' shares for $1.5 billion and return to day-to-day operations. 
"Once we knew [Artie T.] won, we were ecstatic," Bob Cahee, a manager and 30-year company veteran at the Woburn, Mass., store, told us. "Never underestimate the power of your employees."
Market Basket has proven that profit, value and employee happiness aren't mutually exclusive concepts. Its prices are cheaper than most other chains, including local competitors like Shaw's and national competitors like Walmart. Those low prices haven't stopped the company from offering starting wages of $12/hour, paying many store managers in the six figures, giving 19,000 of its 25,000 employees year-end bonuses often worth thousands and paying in generously to employee retirement funds. And those great working conditions haven't affected profit: Shareholders have taken home more than $1 billion between 2000 and 2010, and the company saw revenues of more than $4.5 billion last year.
Employees at Market Basket say they weren't fighting for higher wages or better benefits, though the threat of losing money and benefits was definitely part of the fight. They say the fight was bigger than that; it was about being treated as integral and valued members of a company, and feeling like they had a voice.
"We wouldn't have worked for anyone else," Cahee said. "We would have closed our doors. That's a fact."
Employees said once Arthur S. took over, all of that was under threat.
"It would have changed our whole way of life," Cahee said.
The dust of the Market Basket kerfuffle has yet to settle, and its significance is just starting to be understood. But one thing is clear: What happened at Market Basket was unprecedented in corporate America.
"The fact that they have been successful is historic," Daniel Korschun, a marketing professor at Drexel University's Center for Corporate Reputation, told the Washington Post. "They have really defied what the textbooks say is possible. This is the only time to my knowledge that employees, customers and suppliers have ever joined together and successfully challenged a board of directors."
Most Market Basket employees say they're just happy to work at a company they love. But for some employees, the protests seemed like just the beginning of something else. They say Market Basket's employees have proven it's possible for workers to change a company, and they've proven the value of good managers like Artie T. Now they just hope the rest of corporate America catches on.
"People are starting to notice that this is how a company should be run," John Garon, a front-end manager at the store's Burlington, Mass., location, told Mic. "Whether the rest of America learns the lesson or not, that's another story."