After Weeks of Tension, Ferguson Protesters Are Finally Hitting Police Where It Hurts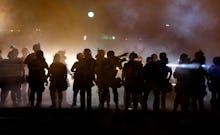 A handful of Ferguson protesters are turning to the courts to hold law enforcement accountable for their actions, so they have filed a $41.5 million lawsuit against Ferguson and St. Louis County police officers.
The suit names both police chiefs as well as a single officer (Justin Cosma, of journalist-arresting fame) while naming the rest of the cops included as John Does. The police involved are accused of infringing the plaintiffs' civil rights by subjecting them to "unnecessary and unwarranted force, arrests that were not based upon probable cause, and other violations of their constitutional rights."
The lowlights: The suit alleges many incidents of police brutality, racial discrimination and generally appalling behavior. Plaintiff Tracey White allegedly got the following treatment when she took her son to McDonald's after attending a church-sponsored "Peace and Love rally":
Several Defendant John Doe police officers and Defendant Cosma, in what appeared to be army uniforms, carrying rifles and sticks and wearing helmets, approached the door and ordered Plaintiff White to "get out." Plaintiff White was terrified and tried to tell Defendant John Doe police officers and Defendant Cosma that her son was in the restroom, and that she was there waiting for her husband to pick them up.
White and her son were held for more than five hours, according to the lawsuit. Another plaintiff, Dewayne A. Matthews Jr., alleges he was shot with rubber bullets and assaulted on his way to visit his mother, who lives near the protest zone:
Plaintiff Matthews was confronted by approximately eight Defendant John Doe police officers in military type uniforms who had their weapons trained upon him. Plaintiff immediately put his hands in the air whereupon he was shot multiple times with rubber bullets.
Damon Coleman and Theophilus Green, also plaintiffs in the lawsuit, allege they were tear gassed and shot with rubber bullets at a protest near the Quick Trip convenience store. "While arresting Plaintiffs Coleman and Green," the lawsuit says, "Defendant John Doe police officers from the St. Louis County Police Department hurled racial epithets at them, while punching and kicking them the entire time."
Moving forward: This lawsuit isn't the only Ferguson response being sent to court. The most notable case is that of Darren Wilson, the officer who shot Brown. A grand jury will decide whether or not to bring charges.
The grand jury investigation could take until October. St. Louis County Attorney Robert McCulloch, who is prosecuting the case, has drawn criticism already for his prior handling of a police shooting case in which no charges were brought and his promise that "absolutely everything will be presented to the grand jury. Every scrap of paper that we have. Every photograph that was taken."
As Vox explains, that's not usually the way a prosecutor approaches a grand jury investigation. McCulloch could be trying to delay the case by taking that route, or even hoping the grand jury decides not to charge Wilson. Either way, between this case and the lawsuit against police, we have heard far from the last from Ferguson.
h/t The Wire