One Amazing Instagram Account Is Documenting 'Everyday USA'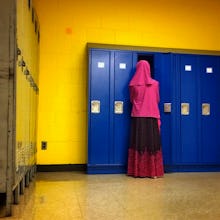 Instagram
David Guttenfelder's career as a photojournalist for the Associated Press has taken him from Nairobi to North Korea. When he returned to America after 20 years abroad, however, he felt strangely out of place. "The United States kind of feels like a foreign country to me," Guttenfelder told The Verge. "I've never worked here as a photographer before. I've never had to walk up to Americans to put a camera in their face."
Therein lies the inspiration for his Instagram account @everydayusa. Guttenfelder and 12 other photographers have been trekking around the 50 states, cataloging the sights along the way. Flags, parents and their children, "Perfect Bacon Bowls," a woman and her lamb — nothing is too ordinary for their camera lens. 
Some of the entries are more contextual. Photographs from Ferguson dot the feed, and one shot features a mural of Ronald Reagan with a caption discussing the former president's War on Drugs campaign. Despite its unassuming name, Guttenfelder says the project is humanitarian in nature. "This is a place for [photographers] to tackle hidden things and important issues without the constraints of having to do it for a client," he told The Verge.
Check out some of the feed's most evocative pictures below: 
The rest of the photos can be found on @everydayusa's Instagram feed.
h/t The Verge