The Deadliest Ebola Outbreak in History Just Spread to Another Country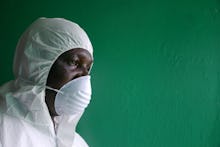 The news: West Africa's deadly Ebola epidemic has spread to another country: Senegal is now reporting its first-ever case of the hemorrhagic fever.
ABC News reports that a university student arrived at a hospital in the capitol city of Dakar on Tuesday, but did not tell medical staff he might have Ebola.
An infectious disease team alerted Senegalese health officials the next day: They'd been searching for the student since he reportedly came into contact with the virus in Guinea, where he attended school. 
His current status is unknown, as is whether he could have infected others in Senegal. But this new infection appears remains grim confirmation that Ebola is a major threat to the entire region's health.
What it means: On Wednesday, CDC Director Tom Frieden warned that the longer the outbreak was uncontained, the higher the risk of the disease spreading to neighboring countries. The strain causing the current epidemic is now present in five: Sierra Leone, Guinea, Liberia, Nigeria, and Senegal. 
A separate outbreak is occurring in the Democratic Republic of Congo, but it's likely a different variant of the virus. The Washington Post reports the disease is mutating, making it more difficult to develop a vaccine or treatment.
More: So far, the World Health Organization says 3,069 people have been infected in West Africa, of which about 1,552 have died. 40% of those cases appeared in the past three weeks. 
But the WHO claims these numbers considerably underestimate the spread of disease, and is preparing for a worst-case scenario estimate of 20,000 patients, with a $489 million containment plan involving thousands of health care workers.
The problem: Like other nations stricken with Ebola, Senegal is a poor country with a rudimentary health care system that hinders the fight against infectious diseases. 
With 54% of citizens below the poverty line (2001 data) and just 20 fully operational hospitals for a population of nearly 14 million, Senegal lacks the capacity to actively respond to this new threat. WaPo's Abby Ohlheiser and Abby Phillip write that Senegal had aggressively acted to prevent the spread of the disease there, including closing land borders with and denying flights from infected countries.
Unfortunately, it seems that wasn't enough.
Why you should care: An experimental vaccine developed in partnership between the federal government and GSK has entered human trials and may be ready with 10,000 doses by the end of the year. But the next few months may see Ebola spread even further out of infected areas before the vaccine is available. 
The infection may become endemic throughout West Africa, which could have serious adverse impacts on the largely-impoverished region for years to come.