Brad Pitt and Angelina Jolie Are a Surprisingly Perfect Reflection of the Modern Family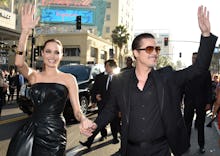 When Brad Pitt and Angelina Jolie first got together, their relationship was scandalous. Their romance sparked "homewrecker" outrage headlines, with people either becoming firmly Team Angie or firmly not. Furthermore, Jolie had already been living as a single mother with adopted children. After pairing off, the couple quickly adopted another and before long they were pregnant with their own biological children. It was a series of events that made the movie star couple's romance seemingly atypical.
Nearly a decade later, the duo has taken on an otherworldly level of movie stardom — and their once unconventional family unit, often a source of controversy, is now looking more and more like many other families in the United States. 
Movie star glam as they are, Jolie and Pitt are an unlikely mirror for how we are constructing and changing love and marriage in the 21st century, yet here we find them in that very position. This is a couple that both adopted and gave birth out of wedlock, and cohabited for years before officially tying the knot. All these choices are increasingly becoming more common amongst Americans, making the Jolie-Pitt relationship a high-profile representation of the changing patterns of courtship and love. 
Image Credit: Getty Images 
Jolie and Pitt cohabited for years before they wed. While many people in our age group consider pre-marital cohabitation to be a fact of life, the reality is it's a modern practice. According to a government study reported on by NBC News last April, 48% of women moved in with male partners before marriage, a vast increase from the 34% who had in 1995. Their cohabitation is a simple reality but one that reflects changing norms. 
Pitt and Jolie also have three adopted children — adopted from Cambodia, Ethiopia and Vietnam. Adoption in general has taken a dip in recent years, but still hits the thousands annually. Still, transracial adoption as Jolie and Pitt did, is on the rise in the U.S. and has been for years. 
Additionally, Pitt and Jolie gave birth to all three of their biological children out of wedlock, another choice that is increasingly common. Slate reported on a study from John Hopkins University, which found that 64% of mothers gave birth to at least one child before marriage. Slate went as far as to call giving birth our of wedlock, "the norm." 
Image Credit: Getty Images 
The modern family is a blissfully far cry from a husband, wife and their 2.5 children and Jolie and Pitt's relationship is a celebrity scale reflection of that. In their own way they've expanded a nation's idea of what a family is and the order in which things need to take place. It's 2014, families come in all different forms.