#FeelingNuts Is About to Become the New #IceBucketChallenge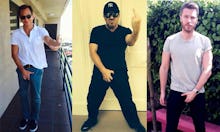 Twitter
The ALS Ice Bucket Challenge has spawned countless imitators, but another worthy successor to the massively successful charity craze may have emerged. It's called #FeelingNuts, and it's raising awareness of testicular cancer by having men post a photo of themselves feeling their (clothed) junk online.
#FeelingNuts was actually created by UK anti-cancer group Check One Two in June to raise awareness of how men can easily screen themselves for potentially cancerous testicular lumps. The campaign has only really taken off in recent days, however, as several well-known celebrities participated and challenged others to get involved.
Mediaite reports that English TV personality Rick Edwards started the trend by challenging Ricky Gervais to join in Ice Bucket Challenge-style:
#FeelingNuts spread quickly, with Gervais responding in the most awesome way possible — what USA Today called an "obscene gesture":
Gervais nominated Ben Stiller, Aaron Paul and Will Arnett, who so far has been the only one to post the photo:
Paul, for his part, seems to like what's going on:
So far, it's mostly been UK celebrities getting involved, including entire boy band Union J:
As well as America's very own Tyson Beckford:
Testicular cancer is relatively uncommon (lifetime chance of developing the illness is 1 in 270 in America), and it is also relatively easy to treat with a 96-99% five-year survival rate if caught before spreading outside the genital region. But it's also the most common cancer among young white men aged 15-34, and its incidence has doubled in the past 40 years. Since the survival rate drops dramatically the farther the cancer spreads, consistent checkups are important to ensuring early detection. A quick home self-screening, similar to a breast self-exam, can act as an easy early detection method.
With a little bit of luck, #FeelingNuts could be on its way to jumping across the pond to the U.S. - and we could see a slew of American celebrities grabbing their balls for the greater good. (I nominate Patrick Stewart.)
Here's how Check One Two is promoting the campaign: