The UN Just Officially Condemned America's Racist Police Brutality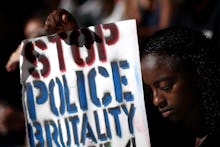 Getty Images
The news: The protests in Ferguson — and law enforcement's abysmal response to them — have sparked condemnation from around the world (especially from some unlikely critics including Iran, Egypt and Russia). Now the UN has finally made an official statement on the events following Michael Brown's shooting death, and it's strongly worded to say the least.
The UN Committee on the Elimination of Racial Discrimination (CERD), an international racism watchdog panel, said on Friday that it "remains concerned at the practice of racial profiling of racial or ethnic minorities by law enforcement officials, including the Federal Bureau of Investigation (FBI), Transportation Security Administration, border enforcement officials and local police," according to Reuters.
"The excessive use of force by law enforcement officials against racial and ethnic minorities is an ongoing issue of concern and particularly in light of the shooting of Michael Brown," Reuters reported CERD vice chairman Noureddine Amir said in news briefing. "This is not an isolated event and illustrates a bigger problem in the United States, such as racial bias among law enforcement officials, the lack of proper implementation of rules and regulations governing the use of force, and the inadequacy of training of law enforcement officials."
You can't ignore the racial factor. As the UN panel pointed out, there is a deeper issue of systemic racism at work here. While police brutality can affect people of all backgrounds — and shootings involving white victims definitely also need attention — the fact remains that police killings of black subjects happen at disproportionate rates.
"We need not look for individual racists to say that we have a culture of policing that is really rubbing salt into longstanding racial wounds," NAACP president Cornell Williams Brooks told Mother Jones. It's a culture in which people suspected of minor crimes are met with "overwhelmingly major, often lethal, use of force."
But it's more than just police brutality. As the UN panel pointed out, systemic racism goes beyond issues of excessive force and police shootings — those are just symptoms of the underlying problem. "Racial and ethnic discrimination remains a serious and persistent problem in all areas of life from de facto school segregation, access to health care and housing," Amir said at a news briefing announcing the panel's findings.
And as Daily Show's Jon Stewart pointed out in his epic rant this week, those who only want to focus on the police brutality aspect of Michael Brown's shooting are missing the fact that the nation is long overdue for a conversation about race — and that racial discrimination colors all aspects of life for people of color.
"Here's the problem with everything that's going on in this conversation. This isn't all about just one man killed in one town. It's about how people of color, no matter their socioeconomic standing, face obstacles in this country with surprising grace," Stewart says in the clip below. "I guarantee you that every person of color in this country has faced an indignity — from the ridiculous to the grotesque to the sometimes fatal — at some point in their, I'm going to say, last couple of hours. Because of their skin color."
h/t Huffington Post