Abercrombie Just Announced a Huge Change, and Their Clothes Won't Look the Same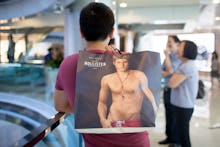 Getty Images
If you went to high school or middle school in the early '00s, Abercrombie & Fitch likely brings back vivid memories. Their clothes were a staple with the the popular kids, who often resembled members of a logo-shirted, artfully ripped jeans-wearing army.
Oh, how times can change.
Abercrombie & Fitch — which also owns sister retailer Hollister — announced this past week that as of Spring 2015, they will stop carrying logo clothing in their stores. It's a major departure for the company, as their logos were the bread and butter of the brand; now, due to sluggish revenue growth, they're being forced to shed what once made them "cool." 
The brand is attempting to keep up with other retailers like Forever 21 and H&M; it's also trying to adjust to the latest trends, none of which include tank tops emblazoned with sparkly "Hollister" lettering. Fashion for today's teens isn't as much about looking the same as everyone else. As Vauhini Vara at the New Yorker writes, "kids today seem less interested in the aesthetic of conformity-through-consumption that Jeffries, [Mike, the CEO] and the company, still seem to advocate."
What went wrong? Abercrombie & Fitch used to be king in the teen fashion industry, and part of the reason was its aura: It was expensive and trendy, and because of the logos, it was very easy to distinguish from other brands.
The company's luxury reputation was good business for a time, but when the recession hit in 2008, it refused to lower its prices, even as competitors began doing so. As a result, it took a major hit in revenue — the second quarter of 2009 saw a loss of $26.7 million, versus a gain of $77.8 million during the same period in 2008.
There were other missteps, too: In a 2006 Salon profile, A&F CEO Mike Jeffries noted that the company's targeting of the "cool" kids was intentional. "Are we exclusionary? Absolutely," he said. "Those companies that are in trouble are trying to target everybody: young, old, fat, skinny. But then you become totally vanilla."
There was also the time they refused to stock size XL or XXL women's apparel because they didn't want larger women wearing their clothing. And who can forget the time they were sued for racial discrimination? That wasn't their first brush with racism, either. In 2002, the company recalled a batch of t-shirts that depicted Asians with "slanted eyes and conical hats," according to SFGate.
The next step: Despite their blunders, Abercrombie & Fitch doesn't appear to be going anywhere soon. Earlier this year, they announced plans to restructure their Hollister stores, and will aim to make them more like fast-fashion giants Forever 21 and H&M. 
As BuzzFeed notes, the brand has also changed their descriptions. Once known as "the essence of privilege and casual luxury," they now tout their legacy as "rooted in a heritage of quality craftsmanship and focused on a future of creative ambition."
Still, sales are a concern for the company, as is the perception of the company and its CEO. They're being forced to change their ways just to keep up with the times — something they all but defined just a decade ago. Somewhere, the "loser" kids of high school are snickering. 
h/t New Yorker