'So You Think You Can Dance' Just Made TV History With This Showstopping Performance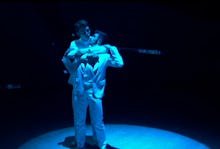 It was pure poetry in motion, set to the rhythm of love and equality.
With soaring leaps, warm embraces and longing glances into each others' eyes, two pairs of performers on So You Think You Can Dance — for the first time ever on American television — danced a romantic, same-sex routine during the show's Top 4 group performance. 
Choreographed by openly gay dance guru Travis Wall, the heartwarming selection was set to the soundtrack of "Wind Beneath My Wings," as made famous by Bette Midler in the film Beaches. And in the elegant, yet understated two-minute performance, these dancers managed to soar into the hearts of millions, showed just how powerful the bonds of love and affection can be when shared between two people — even of the same sex.
As LGBTQ Nation notes, not long after the performance aired, Wall posted a photo of the closing scene of the performance, using the hashtag #equality:
Judging by the looks of most American reality TV competitions, most people wouldn't otherwise know just how much various forms of dance have been heavily influenced by queer choreographers, performers and their allies like Alvin Ailey, Robert Joffrey, Paul Taylor and Lar Lubovitch. That's because the competitions have exclusively featured opposite-sex dance pairings, despite recently coming close to breaking that ages-old tradition.
Three years ago, after heavy speculation, Dancing With the Stars producers voted down the idea of having a same-sex duo for the celebrity dance-off competition — which sent some fans into an uproar.
As reported by the Today Show, DWTS executive producer Conrad Green said they'd considered featuring such a pairing in the past, in what was considered a reference to the offer made to Portia de Rossi in 2010, which she declined. "But the traditional role in ballroom (dancing) is for men to have a female partner, so that's what we'll do," he said. 
Others on the production team took a stronger stand against the idea, dismissing the upset of some fans as activism that doesn't belong on the ballroom dance floor.
"This is not a social dancing show, it's a dancing competition. A man should dance with a woman, no matter what your sexual orientation, in ballroom," said Deena Katz, one of the show's senior producers. "If I'd put Chaz [Bono] with Mark [Ballas], for example, it would have looked like I was trying to make controversy. We're not setting people up on dates."
But that didn't stop the Israeli version of Dancing With the Stars from taking the lead instead, featuring a same-sex pairing on its show in 2011 — with TV personality and sports journalist Gili Shem Tov and her professional dancing partner, Dorit Milman.
Image Credit: Streethanna via YouTube
If anything, the lack of backlash stemming from the inclusive dance moves from So You Think You Can Dance should prove, once and for all, that America is ready to see a transformation in ballroom dancing — where two men or two women can dance with each other competitively on national television.
And, as the nation just witnessed, that transformation looks and sounds endearingly beautiful.