The First Trailer for 'Downton Abbey' Season Five Has Arrived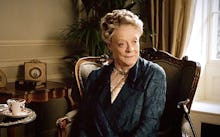 Youtube
"Downtown is catching up with the times we live in," exclaims Mrs. Hughes in the brand new season five trailer of Downton Abbey. The times we live in, indeed. 
Watch the trailer below to see for yourself. 
Time points out that the next season is set in 1924, the year that saw Britain's first Labour party government, which means the Crawleys and their servants should prepare themselves for a year of dramatic social change. 
Oh, and if social change wasn't the "times" Mrs. Hughes was referring to, maybe it's all the secrets and sex the new trailer is already hinting at. Either way, with such a dynamic historical backdrop this season, don't be surprised if major changes come to the estate (at least as large of changes as you can reasonable expect for 1920s Great Britain) — because as Lady Edith declares, "The world is changing."
The next season of the critically praised, Emmy-winning show already has a Sept. 21 premiere date, but U.S. viewers will need to wait until 2015 to catch the action (unless you or a friend is among the more Internet savvy).