Israel Just Made A Big Move, And the U.S. Isn't Happy About It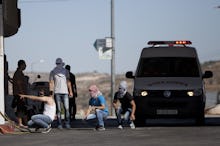 Israel announced a huge West Bank land grab Sunday in a move that left Palestinians seething — and the U.S. State Department shaking its head.
The appropriation encompasses nearly 1,000 acres of land near Bethlehem. Israeli anti-settlement group Peace Now called it the largest land appropriation in 30 years.
The U.S. was none too pleased, calling the decision "counterproductive" to a peaceful two-state solution. "We urge the government of Israel to reverse this decision," a State Department official said in a statement.
The background: Israel's Civil Administration said the appropriation was ordered by the government after three Jewish teens in the area were kidnapped and killed by Hamas in June. That incident helped spark the seven-week war over the border of Israel and Gaza, which is controlled by Hamas.
The two sides reached a cease fire on Tuesday after thousands of deaths. According to the UN, 2,104 Palestinians were killed in the violence, including 495 children. Sixty-nine Israelis were killed, including five civilians.
The terms of the truce, which Egypt helped broker, are essentially the same as those following the 2012 Gaza war. In other words, as the Washington Post explains, things ended up right back where they started.
The reactions: As would be expected, Palestinian authorities were not at all happy after the announcement. "This decision will lead to more instability," Nabil Abu Rdainah, a spokesman for Palestinian President Mahmoud Abbas, told Reuters. "This will only inflame the situation after the war in Gaza."
Israel has countered that the move, large as it may be, doesn't count as a new settlement, but merely the extension of an existing one. There are currently 10 Jewish families living on the new site, according to Peace Now, where they operate a Jewish school.
Palestinians use the land too. Nearby residents harvest olives there, according to Reuters. Those who oppose the appropriation have 45 days to object.