These Are the 10 Most "American" Cities in the U.S.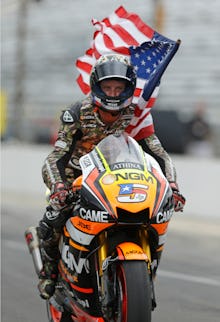 Newsflash, America: Washington, D.C., may be the center of our democracy, but when it comes to overall American-ness, it's pretty low on the list.
At least, according to one measurer: WalletHub, a personal finance site, has considered an array of demographic factors – including age, income, gender and race – to determine which U.S. cities are the most "typically American."
The outcome may surprise you. Top honors go to Nashville, Tenn., home to the Country Music Hall of Fame and an art festival that revolves around tomatoes.
The city also served as the teenage stomping ground for a America's sweetheart Taylor Swift and is home to the NFL's Tennessee Titans.
D.C. limps in at number 340 of the nation's 366 largest metros.
Background: These rankings take into account  26 different metrics, according to WalletHub.
Factors like household income, percentage of the population under age 18, home ownership and education statistics all play a role in determining typicality. The more closely a city matches the national breakdown, the higher it is ranked on the list.
The top 10 heavily reflect the American South and heartland:
1. Nashville, Tenn.
2. Cincinnati, Ohio
3. Indianapolis, Ind.
4. Charleston, S.C.
5. Jacksonville, Fla.
6. Greenville, S.C.
7. Oklahoma, Okla.
8. Phoenix, Ariz.
9. Albuquerque, N.M.
10. Winston, N.C.
And here's the bottom 10, with a bit more coastal representation:
357. El Centro, Calif.
358. Barnstable, Mass.
359. Laredo, Tex.
360. Johnstown, Penn.
361. Ames, Iowa
362. Yuma, Ariz.
363. Brownsville, Texas
364. Altoona, Penn.
365. Boulder, Col.
366. McAllen, Texas
It doesn't stop there: WalletHub also includes a top and bottom five ranking by category in terms of matching America's standard statistics — each of which offers a variety of interesting takeaways
Gender characteristics:
Top 5:
Albuquerque, N.M.
Tucson, Ariz.
Erie, Penn.
Eugene, Ore.
La Crosse, Wisc.
Bottom 5:
Michigan, Ind.
State College, Penn.
Fairbanks, Alaska
Jacksonville, N.C.
Hanford, Calif.
Age characteristics:
Top 5:
Tulsa, Okla.
Birmingham, Ala.
Cedar Rapids, Iowa
Fort Wayne, Ind.
Alexandria, La.
Bottom 5:
College Station, Texas
Manhattan, Kan.
Logan, Utah
Lawrence, Kan.
Provo, Utah
And race characteristics:
Top 5:
Denver, Colo.
Tampa, Fla.
College Station, Texas
Kansas City, Mo.
Orlando, Fla.
Bottom 5:
Steubenville, Ohio
Albany, Ga.
Wheeling, W.V.
Florence, S.C.
Altoona, Penn.
The takeaway: In many ways, these rankings necessitate a large-scale reimagining of what some consider "American" (or what "Real America" is, for that matter). Far from the iconic coastal hubs that pepper historical lore – like Boston, Mass., and Philadelphia, Penn. – these cities paint a picture that's decidedly more American Idol than American Revolution.
h/t Marketplace