Michigan Celebrates Labor Day by Raising Minimum Wage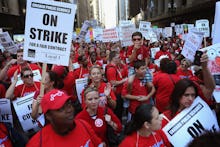 The news: On Monday, something happened for the first time in six years: Michigan's minimum wage went up.
Starting on Labor Day, Sept. 1, Michigan's minimum wage workers will earn $8.15 an hour, up from the previous minimum wage of $7.40, reports WJBK. The 4% of the state's 2.5 million hourly workers who make the minimum wage will see an immediate raise, as will a large number of others who see their pay scales adjusted.
Michigan's new minimum wage of $8.15 will make it the seventh highest in the nation, and while the first jump is modest, it's merely the first part of a plan to have the state reach a minimum wage of $9.25 by 2018 — a 25% increase from the previous minimum. The last time Michigan saw a federal minimum wage increase was 2009, when the state's lowest-earning workers got a paltry $.25 raise from the previous minimum of $7.15.
The background: A recent report by the Michigan Association of United Ways found that approximately 40% of Michigan households with at least one employee don't make enough money to meet their basic requirements for continued survival like food, housing, transportation and health care; on average, those households fell short of their requirements by about 13%. The new, higher wage will help them meet those needs, but it's still far short of the $10.10 proposed by the White House.
Restaurants and big businesses fought the increase, which they portrayed as a job-killing overreach by the state government. But MSU economist Charles Ballard told WJBK the increase was modest and gradual enough that there was little threat it would "shake the overall economy." 
But the notion that a higher minimum wage hurts growth isn't born out by the evidence. The Center for Economic and Policy Research's Ben Wolcott argues states that increased their minimum wage on Jan. 1 are seeing faster employment growth than other states:
Image Credit: CEPR
Nationwide, the Economic Policy Institute estimates that an increase in the minimum wage to the higher $10.10 level would give a substantial direct raise to some 16.7 million workers, ultimately generating $35 billion in extra wages by 2016. Even a smaller increase would do a lot of good. As ThinkProgress' Bryce Covert argues, the Federal Reserve Bank of Chicago additionally calculated that a smaller increase to $9 would increase household spending by $28 billion — boosting GDP by around 0.2%.
Why you should care: A higher minimum wage would be good for the economy and business, but many states have stagnating wage laws despite elevated levels of poverty and poor growth. Meanwhile employees nationwide are working harder and more productively despite depressed incomes, meaning that if the minimum wage had kept up with productivity, the CEPR now estimates it would be somewhere around $21.72 in 2012, compared to 1968.
Michigan's new law should help prop up a faltering state economy, which is still failing to provide for more Michiganders. And it will provide yet more evidence that a high minimum wage is good for everyone, especially low-income workers.