Will Michael Sam Make Future NFL Hopefuls Less Likely to Come Out?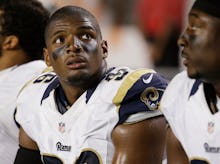 On Saturday, the St. Louis Rams released rookie defensive end Michael Sam during their final cuts of the preseason. The following day, Sam cleared waivers after going unclaimed by any of the league's other 31 teams, leaving the first openly gay player to have ever been selected in the NFL draft unemployed.
By all appearances, the Rams' decision to cut Sam appears to be nothing more than a football move, and not rooted in homophobia. With Chris Long and Robert Quinn holding a lock on the team's starting defensive end spots, the deck was stacked against the 24-year-old SEC co-Defensive Player of the Year.
Former NFL team executive Bill Polian spoke with the New York Daily News about the Rams' decision to cut Sam, seemingly unsurprised by the circumstances in which Sam currently finds himself.
"I was not at all surprised he wasn't claimed," said Polian. "As you know, I've said from the outset, he's a one-dimensional player, a designated pass rusher. At this stage of the game, 4-3 teams pretty much have their lineups set."
"The scouting report on Sam all along had been this: Nice kid, works hard, just not good enough to play in the NFL. Sam has a good first step, plays hard, shows great effort and has pass rush ability, but he's not an elite pass rusher. He is undersized for a defensive end, doesn't run well, not much of a help on special teams and basically came as advertised."
Polian went on to urge fans to avoid reading into this as anything but a football decision.
"He's a marginal guy who fits only a few teams and has only one skill. To read anything into this other than football would do him a disservice. I don't think the sociological issue is anything that comes into it as this point. Believe me, I went to his pro day, I talked to him, watched all the tape, he's a nice kid who works really hard. I was rooting for him, (Rams coach) Jeff (Fisher) was rooting for him. He got an opportunity and basically the scouting reports were correct."
During a press conference, Fisher told reporters that cutting Sam was "not a difficult decision."
"This was a football decision. Mike fit in very, very well. I was pulling for him and it didn't work out," Fisher said, adding, "Mike's got the ability to play someplace. It's got to be the right place, it's got to be a fit."
Given Sam's size and skill set, it appears that the only true fit for him would be in a 4-3 defensive set. Given that only about half of teams run a 4-3 defense, and the number of teams with a true need at the defensive end position make up only a fraction of that, it seems that Sam's playing days may be over before they truly began.
"[The Rams] did not choose to be the first NFL team to draft an openly gay player so they could be the first team to cut an openly gay player — it just happened that way," says an Outsports op-ed, later making the bold claim that "if all 31 NFL teams pass up on Sam again, after proving himself on the field, it will be because of homophobia."
It remains to be seen whether or not another NFL team will take a shot on the hardworking defensive end, now or in the future. And while motives for other teams' passing on him after a three-sack preseason remain nebulous, it's clear that the Mizzou standout has impacted league history.
The question, however, is what his legacy truly means. Will this event make players more likely to come out? Will they be less likely? Sam had a chance to be the first men's athlete in a major American sport to begin his career open about being gay. While the WNBA has had a number of out lesbian athletes, such as Brittney Griner, it was only when Jason Collins came out at the tail end of his career that men's sports had their first gay pioneer. Michael Sam had a chance to take that a step further and not feel obligated to hide his sexuality for the sake of job security — a concern held by gay Americans in many fields of work. Now he finds himself unemployed.
What does the future hold for Michael Sam? Perhaps he'll wind up on a team's practice squad, or maybe a midseason injury will revive interest among other teams. Perhaps he'll play in Canada or the Arena League, or maybe this really is the end of his playing career. No matter what, the sporting world is lucky to have had Michael Sam a part of it.