Why Are There No Real Female Icons Represented in Central Park?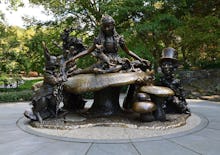 From Literary Walk to Strawberry Fields, Central Park is filled with men — male statues, that is. 
But this 150-year-old travesty may soon be coming to an end. Activists are hoping to redress this gender inequity with a campaign to get statues of feminist foremothers and civil rights activists Elizabeth Cady Stanton and Susan B. Anthony placed permanently in New York City's historic leafy sanctuary. 
According to Vocativ, there are approximately 50 statues scattered throughout the first landscaped public park in the United States. Many of these stand along the park's Literary Walk. Some have ties to American history, like the stone depictions of Christopher Columbus and Alexander Hamilton, but others, like Shakespeare, Hans Christian Andersen and Simón Bolívar, do not.
Of these statues, the only easy-to-distinguish female figures are fictional: Alice (of Alice in Wonderland), Mother Goose and Juliet (of Romeo and Juliet).  
Image Credit: Central Park Conservancy
Interestingly, both Alice and Juliet are children created by male authors with dubious records of empowering their female characters. If anyone has much agency, it's Mother Goose, but stopping with her falls far short of the possibilities.
Pam Elam is spearheading the movement for including female monuments in Central Park. "There are numerous representations of the female form (like angels, nymphs and allegorical figures)," she told Women You Should Know. "But statues celebrating the vast and varied contributions of real women are nowhere to be found."
Meanwhile, you can't go more than a few hundred yards without walking into a dude.
Image Credit: Flickr
Coline Jenkins, the great-great-granddaughter of suffragist Stanton and president of the Elizabeth Cady Stanton Foundation, told Vocativ that she agrees that women have been left out of the park: "Central Park is visited by 40 million people every year. ...This is a quintessential public forum, but where are the women's voices?"
"One can say that the park has a perfect constellation of statues," she told Vocative. "But there is a flaw in thinking if you believe it is OK to have a public space absent of women's voices. Women should be represented and standing shoulder to shoulder with men."
But it's not just Central Park that's struggling to diversify. Research shows that around the country, women are dramatically less likely to be included in memorials, parks and statuary gardens. In 2011, only 394 of the 5,193 public outdoor sculptures of individuals in the United States featured women, according to the Washington Post. That's a dismal 8%. Meanwhile, zero of the National Park Service's national memorials focus on female accomplishments.
Image Credit: Getty
This fact "expands the broader message that the contributions of women don't matter," Lynette Long, a psychologist and founder of Equal Visibility Everywhere, told the Washington Post. "Humans tend to trust the nonverbal, and the statues send a very clear nonverbal message. Girls can't be what they can't see."
Ultimately, the list of great American women who could be memorialized in Central Park is endless, even if curtailed to those only having connections to New York City. The campaign is much needed, not only to recognize the past and acknowledge the contributions of women to the political and cultural foundations of this country, but also as a learning tool for all who visit the park.