One Company Just Took a Big Stand Against the Damaging Effects of Photoshopping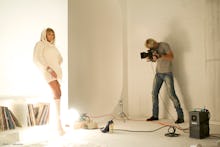 Whether it's the daily reinforcement of thigh-gap advertising or the beauty industry perpetuating a very specific (read, light-skinned and thin) standard of beauty, we've all gotten sick of Photoshopped models. Many celebrities are now resisting the trend.
One online retail store is attempting to change this culture, promoting a new standard to compete with the status quo. In the spirit of openness, San Francisco-based women's clothing brand ModCloth announced that it was saying no to secret Photoshop — forever.
Image Credit: ModCloth
According to the Today Show, ModCloth is the first company to make such a commitment official by signing the Heroes Pledge for Advertisers, a petition started by the Brave Girls Alliance, a group that wants to change the way women are depicted in media and popular culture. Signers of the pledge promise:
1. To do our best not to change the shape, size, proportion, color and/or remove/enhance the physical features, of the people in our ads in post-production.
"We've always believed in celebrating and showing real women in our marketing," ModCloth Chief Marketing Officer Nancy Ramamurthi told Today.com. "I do believe that women of all sizes are beautiful. So why not show that and reflect back the diversity of women in this country today?"
An online retailer known for its vintage-style items, ModCloth has grown from a small boutique operating out of a Carnegie Mellon University dorm room into a company employing hundreds that made more than $100 million in 2012, according to Pittsburgh Magazine.
The company's bold move was partly inspired by ModCloth's own philosophy, which has worked to showcase collections designed for a diverse range of body types in the past. "We've never been a company that has misrepresented or altered the photos of our models," Ramamurthi told Fashionista. "I think that honest and authentic point of view was something that was very aligned with who we are as a company, so we were thrilled to be the first fashion company to sign."
Of course, the pledge still allows for altering images in minor ways, to correct flyaway hair, for example, or to remove shadows and correct lighting. However, companies that sign up must promise not to alter their models' shape, skin color or physical proportions. While it might seem like an inconvenience, in a culture awash in Photoshop controversies, being known as a body-positive company might not be the worst thing for a brand's bottom line.
Recently, Australian model Meaghan Kausman rallied the Internet against swimwear line Fella Swim after discovering the company had dramatically Photoshopped her body. "My body is a size 8, not a size 4. That's my body! I refuse to stand by and allow ANY company or person to perpetuate the belief that 'thinner is better,'" she wrote on Instagram, posting before and after pictures of her shoot.
Seth Matlins, who helped create the Truth in Advertising bill and the Heroes Pledge and is also pushing Dove to "Photoshop and Tell," told the Globe and Mail, "The advertising industry either ignores or, for whatever reason, seems unaware of the harm they're doing." But a few more high-profile PR disasters like the Kausman debacle, and it seems likely more in the fashion industry will be following in ModCloth's footsteps.