CeeLo Green's Disgusting Comments Prove Rape Culture Is Alive and Well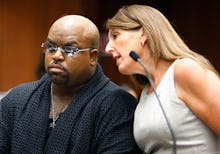 When a woman comments on the Internet about the prevalence of rape culture, the backlash is often swift. And thanks to CeeLo Green's deep-seated misunderstanding of the circumstances surrounding his own alleged sexual assault, we know that even prominent celebrities can perpetuate myths about rape, with or without understanding what they are doing.
Green, the singer-songwriter perhaps best known for his hit song "Fuck You," drew the ire of many women's advocates due to tweets he sent after pleading no contest to supplying ecstasy to a woman in 2012; he allegedly had intercourse with her while she was unconscious. After receiving a sentence of three years on probation and 360 hours of community service (for the drug; no rape charges were ever filed), Green took to social media to tell his followers all about how he's actually a nice guy, railroaded by critics who don't understand what rape is.
Unfortunately for Green, his tweets, deleted since he sent them on Tuesday but preserved in screenshots, left little doubt as to who exactly it was who didn't understand the concept of rape.
"People who have really been raped REMEMBER!!!" he wrote in one. "If someone is passed out they're not even WITH you consciously! so WITH Implies consent," he (erroneously) claimed in another.
There are so many damaging myths about sexual assault in those two little sentences that it's hard to know where to start.
First of all, being with a person never implies consent. You don't consent to anything, sexual or otherwise, simply by being in the presence of someone else. Being with someone who drugged you without your knowledge most certainly does not imply consent either.
Second, many rape victims do not remember their assault. That does not mean the rape doesn't count. Good lord.
Following backlash online (and probably a frantic call from his publicist), Green deleted the wildly inaccurate and insensitive tweets, and his entire account, which has since been reactivated.
Unfortunately, Green's victim-blaming beliefs about sexual assault aren't surprising, because they aren't new. From celebrities who sing about supposed "blurred lines" to politicians like Todd Akin who use language like "legitimate rape" to lawyers like the one in Steubenville, Ohio, who claimed that a victim's silence implies consent, it's clear that Green's comments are the rule rather than the exception in our cultural reality. They point to a profound misunderstanding at every level of society of what consent actually looks like.
In a couple of days, it's likely this entire scandal will blow over and we'll move on to the next public figure who says something terrible about women. Green will go on to sell records and be a successful recording artist, just like many other male entertainers with histories of hurting women, such as Chris Brown and Sean Penn.
Like these other well-known abusers, Green likely didn't come up with this misguided theory about consent: He learned it. Until our culture teaches men that nothing — not your gender, wealth or fame — entitles you to female bodies, people like him will continue to believe and claim that some women are deserving of rape.
Update 09/02/2014 9:15 pm: According to UltraViolet, it took as little as three hours after the launch of their online petition for TBS (Time Warner's parent company) to cancel CeeLo Green's show "The Good Life." 
Correction: Sep. 2, 2014
An earlier version of this article misstated the length of community service time to which Green was sentenced. It was 360 hours, not 360 days.