Tennis After 2 a.m. Remains Sports' Most Surreal Spectacle — But Not Without a Cost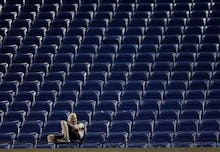 Maybe 1,000 spectators peppered the stands of the world's largest tennis stadium at 2:26 a.m. Tuesday. After 4 hours, 19 minutes — the longest match of this year's U.S. Open — Kei Nishikori stepped to the baseline with a match point against Milos Raonic.
That's when Nishikori, who is ranked 11th, put away an easy open-court volley to seal a 4-6, 7-6 (4), 6-7 (6), 7-5, 6-4 victory over the sixth-ranked Raonic. The marathon showcase of tireless running and expert shotmaking between two of the sport's rising stars equalled the latest finish in the tournament's history.
If the idea of a top-flight international sporting event taking place in a near-empty arena at such an ungodly hour strikes you as surreal, that's because it most certainly is. The stakes are high — a place in the last eight of the men's draw and $370,250 in prize money were on the line Tuesday morning — and the competition evenly matched between world-class athletes.
Long after the beer and concession stands have been shuttered, the tournament allows fans in Arthur Ashe Stadium's vertigo-inducing mezzanine to move down to the high-rent district. Work crews in green jackets sit patiently in the mostly empty upper deck, waiting until the match ends before cleaning the aisles.
The U.S. Open prides itself as the Grand Slam that's married tradition with innovation. Tiebreaks, electronic line calling and equal prize money for men's and women's players all started here. Perhaps the most iconic of these innovations is the advent of night tennis, made possible when the West Side Tennis Club installed floodlights in 1975. The tradition carried over when the tournament moved to Queens in 1978, making way for some of the tournament's most memorable — and bizarre — moments.
Like Tuesday morning.
"I don't even know how (the fans) will get back home," said the 24-year-old Nishikori, who became the first Japanese man to reach the U.S. Open quarterfinals since Zenzo Shimizu in 1922. "It's always fun to play here."
But "fun" doesn't come without a cost.
Consider that Nishikori's win over Raonic was the fifth match in U.S. Open history to finish past 2 a.m.
Each of the previous four winners lost their very next match. That list includes then-No. 1 Rafael Nadal, whose quarterfinal win over Mardy Fish in 2008 ended at 2:11 a.m. Two days later — or one, really — the top-seeded Spaniard suffered an upset loss to Andy Murray in the semifinals.
The sample size is admittedly small, but the trend stands to reason. When a match ends after 2 a.m., the players are still hours from bed. There are on-court TV interviews to be conducted and a period for stretching and cooling down that can't be hastened.
Nishikori didn't arrive for his press conferences — one with English-speaking journalists, another with the Japanese media corps — until nearly 3:30 a.m. on Tuesday morning. It's hard to imagine he left the grounds before 4. By the time a player gets a little food in his belly and makes it back to the hotel in Manhattan, the sun is likely rising over the East River.
"It was fun how many people stuck around," said the 23-year-old Raonic, who lobbed a thinly veiled criticism at the organizers for scheduling him for a late-night match after playing at 11 a.m. on Saturday. "The only thing that was a little bit awkward is you play first so you have to wake up at 5:00 a.m. to play first on (Saturday), and then (Monday) you're here till 4:00 a.m. It's a little bit weird.
Nishikori, who will face No. 3 seed Stan Wawrinka in Wednesday's quarterfinals (3 p.m. ET, ESPN), remains optimistic — even in the face of the foreboding history.
"I never had something like this," he said. "Played five hours few years ago against (Marin) Cilic, and I felt dead after that match. But now I'm little more stronger than before, so should be OK. I'll try to recover tomorrow. Tomorrow is going to be very important, you know, try to have good practice and good preparation for the next one."
It will be here before he knows it.