Eric Cantor Found 3.4 Million Reasons to Be Happy About Losing His Place in Congress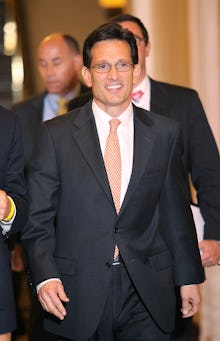 Pity the poor, losing congressmen. After months of nonstop campaigning, repetitive stump speeches and photo op after weary photo op, they must return home downtrodden and empty-handed. Their only solace? The multimillion-dollar private-sector jobs that await many of them.
Such is the case for Eric Cantor. The former House majority leader was defeated by college professor David Brat in a shocking Republican primary upset in Virginia a few months ago, but his silver lining materialized Monday with the announcement that he would take a new job at investment bank Moelis & Company.
The job comes with a pay package of $3.4 million, according to SEC filings spotted by Business Insider. That includes $1.4 million in signing bonuses and $1.6 million in incentives, along with a base salary of $400,000.
The background: Cantor's new Wall Street gig will allow him to advise corporations on mergers and other business decisions. But Cantor isn't terribly experienced in the dark arts of finance.
"He has no experience or skills that would qualify him to be even an intern at a fifth-tier firm in the financial industry," Dennis Kelleher, former corporate lawyer and current financial reform activist, told New York magazine. "I mean, come on!"
So why hire him? As Kelleher explains, the reason is clear: "Wall Street is after what it's always buying in Washington: access, influence and unfair advantage. And Cantor is a big catch for anybody who wants access."
As the Washington Post notes, Cantor pulled in $1.4 million during his primary campaign from people and and committees related to the securities and investments industry, making the sector his top donor source. 
Not alone: It's not just Cantor, of course, who can jump out of office and into the Wall Street boardroom or K Street corner office.
Open Secrets compiled a list of landing places for former lawmakers, and the results aren't exactly comforting. Of the 45 members who left office in 2013 and found new jobs, for instance, more than 65% ended up working in lobbying.
Cantor said in a statement that the new position will have him offering "conflict-free advice" to clients. In a system set up like this, that seems especially unlikely to be the case.